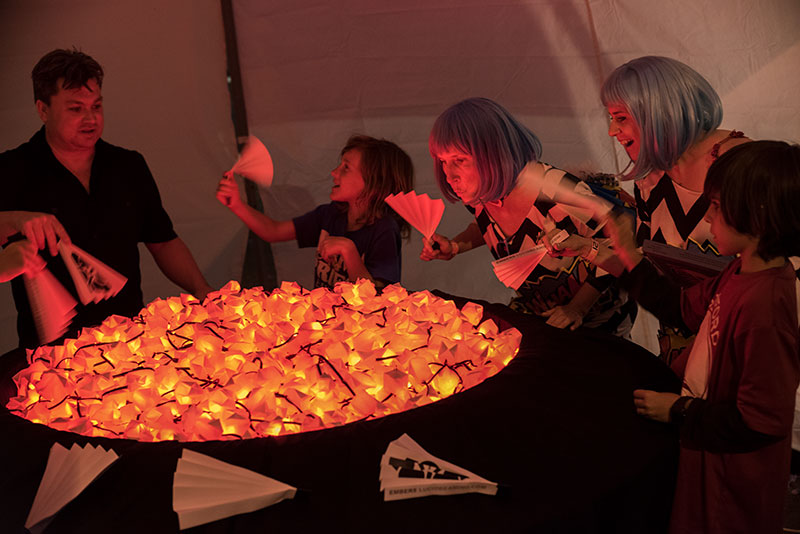 Photo by Jerry Berkstresser
It started with incendiary memories: looking at a fading bonfire with friends at the end of a good day, stoking the fire in a pot belly stove, and watching Haitian women cooking chicken over a bed of coals.
I wanted to build something with modern technology that evoked these visceral feelings and associations. Without using screens or typical presentations, the goal was to create an artwork that a wide variety of people could relate to and connect with. It also had to be driven by their own effort.
The initial work began at the Gray Area Foundation for the Arts in San Francisco, during the 2017 Winter Creative Code Immersive. I was learning the mechanics of building interactive art and was looking for a project to bridge my past experience with modern tools.
In January, I travelled to Washington D.C. to photograph the Women's March and the Presidential Inauguration. They were very different events, but I was struck by the collective effort that went into both. Ideological opposites, they were still the products of powerful collaboration.
When I got back, I heard a lot of fear and anxiety. I had worked in Haiti with an organization called Zanmi Lakay and it had blossomed into effectiveness through group collaboration. I wanted to harness some of that energy and make art that celebrated it.
Embers was born. The first glimpses came from amber hued blinking LEDs in a workroom at Gray Area. 4 months later, the final piece shimmered radiantly in front of thousands of people at the SubZERO art festival in San Jose, CA. In the end, the project itself was a practical testament to collaboration grounded in its conceptual beginnings.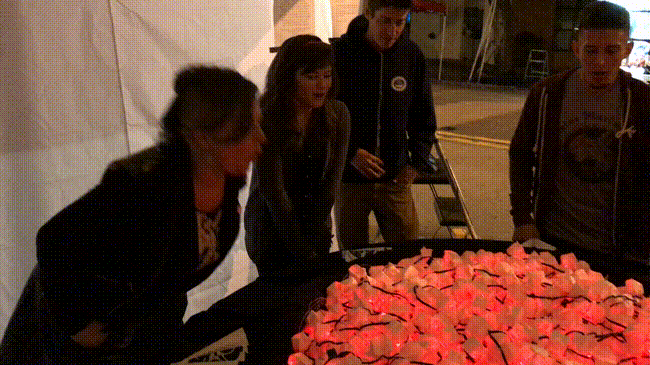 Building the Prototype
For the Gray Area Immersive Showcase, I completed a working study with 100 individually addressable LEDs, 3 Modern Device Wind Sensors (Rev. C), an Arduino Uno, and 100 hand folded rice paper balloons as diffusers. I worked on it alone at my house and didn't really know how people would respond to it.
When it debuted at the showcase, it was a hit. People were drawn to the fading and evolving light patterns and were delighted when it lit up as they blew on it. I didn't have to explain much. People seemed to really get it.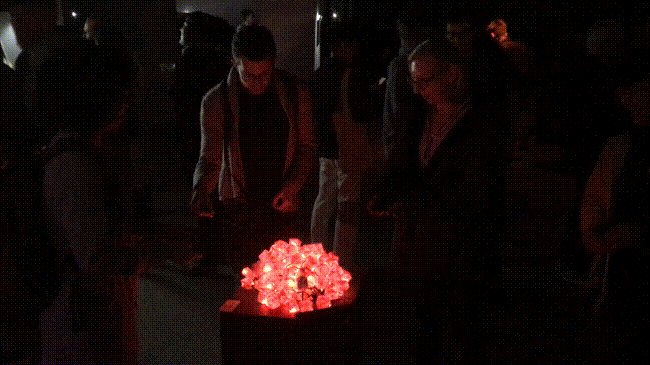 The Dare
In early May, I showed a video clip of the study to local gallery owner Cherri Lakay of Anno Domini. She surprised me by daring me to make it for an upcoming art festival called SubZERO. I hesitated, mostly because I thought building the prototype had already been a lot of work. Her fateful words, "you should get all Tom Sawyer on it."
So, a plan gestated while working on some music for my next album. It was going to be expensive and time consuming and I wasn't looking forward to folding 1,500 rice paper balloons. A friend reminded me about the concept of the piece itself, "isn't it about collaboration anyway? Get some people to help."
I decided to ask 10 people to get 10 more people together for folding parties, with the goal of coming up with 150 balloons at each party. I would give a brief speech and demo the folding. The scheme was simple enough, but became a complex web of logistics I hadn't counted on.
In the end, it turned out to be an inspiring and fun experience. 78 people helped out in all, with a wide range of ages and backgrounds.
Building Embers
The prototype worked well enough that I thought scaling it up would just be a matter of quantity. But, issues arose that I hadn't dealt with in the quick paced immersive workshop. Voltage stabilization and distribution, memory limitations, cost escalation, and platform design were all new challenges.
The core of the piece was an Arduino Mega 2560, followed by 25 strands of 50-count WS2811 LEDs, 16 improved Modern Device wind sensors (Rev. P), and 300 ft. of calligraphy grade rice paper. Plenty of trips to Fry's Electronics yielded spools of wire in many gauges, CAT6 cabling for the data squids, breadboards, and much more.
My living room was transformed into a mad scientist lab for the next month.
Installation
Just a few days before SubZERO, my house lit up in an amber glow. The LED arrays were dutifully glittering and waning in response to wavering breaths. The power and data squids had been laid out and the Arduino script was close to being finished.
I was confident it would work and was only worried about ambient wind at that point. A friend had built a solid platform table for the project and came over the day of the festival to pick up the project. We took it downtown and found my spot on First St. After unloading and setting up the display tent, I began connecting the electronics.
After a series of resource compromises, I had ended up with 1,250 LEDs and around 1,400 paper balloons. The balloons had to be attached to each LED by hand and that took a while. I tested the power and and data connections and laid out the sensors.
Winding the LED strands in small mounds on the platform took a long time and I was careful not to crush the paper balloons. It was good to have friends and a cousin from San Luis Obispo for help.
Lighting the Fire
I flipped the switches for the Arduino assembly, the LED power brick, and then the sensor array. My friends watched expectantly as precisely nothing happened. After a half hour of panicked debugging, it started to light up but with all the wrong colors and behavior. It wasn't working.
I spent the first night of the two day festival with the tent flap closed, trying to get the table full of wires and paper to do what I had intended. It was pretty damn stressful. Mostly, I was thinking about all the people who had helped and what I'd tell them. I had to get it lit.
Around 10 minutes before midnight (when the festival closed for the night), it finally began to glow amber and red and respond to wind and breath. Around 10 people got to see it before things shut down. But, it was working. I was so relieved.
It turns out that a $6.45 breakout board had failed. It's a tiny chip assembly that ramps up the voltage for the data line. I can't recommend the SparkFun TXB0104 bi-directional voltage level translator as a result. The rest of what I have to say about that chip is pretty NSFW.
I went home and slept like a rock.
The next day was a completely different. I showed up a bit early and turned everything on. It worked perfectly throughout the rest of the festival.
People really responded to it and I spent hours watching people laugh and smile at the effect. They wanted to know how it worked, but also why I had made it. I had some great conversations about where it came from and how people felt interacting with it.
It was an amazing experience and absolutely a community effort.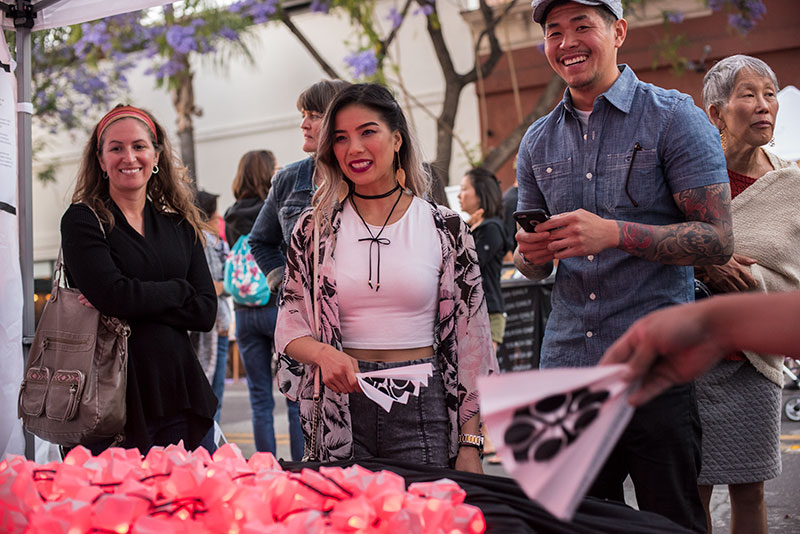 Photo by Jerry Berkstresser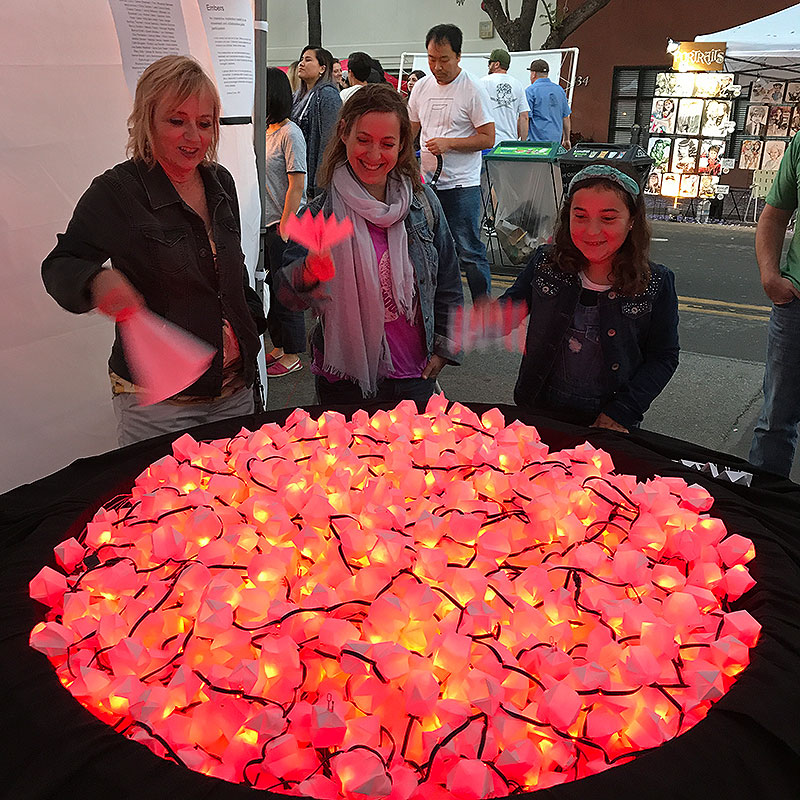 Photo by Joshua Curry
Thanks to all the people and organizations that helped make this a reality:
Grey Area Art Foundation for the Arts, Anno Domini, SubZERO, Diane Sherman, Tim, Brooklyn Barnard, Anonymous, Chris Carson, Leila Carson-Sealy, Cristen Carson, Jonny Williams, Michael Loo, Elizabeth Loo, Kieran Vahle, Jasmina Vahle, Peter Vahle, Kilty Belt-Vahle, Sara Vargas, Sydney Twyman, Annie Sablosky, Martha Gorman, Nancy Scotton, Melody Traylor, Morgan Wysling, Bianca Smith, Susan Bradley, Jen Pantaleon, Guy Pantaleon, Carloyn Miller, Paolo Vescia, Amelia Hansen, Maddie Vescia, Natalie Vescia, Cathi Brogden, Evelyn Lay Snyder, Alice Adams, Lisa Sadler-Marshall, Gena Doty Sager, Mack Doty, Mary Doty, James W. Murray, Greg Cummings, Vernon Brock, Jerry Berkstresser, Lindsey Cummings, Kyle Knight, Liz Hamm, Rebecca Kohn, Shannon Knepper, John Truong, DIane Soloman, Stephanie Patterson, Robertina Ragazza, Sarah Bernard, Jarid Duran, Deb Barba, Astrogirl, Tara Fukuda, CHristina Smith, Yumi Smith, NN8 Medal Medal, Gary Aquilina, Pamela Aquilina, Dan Blue, Chris Blue, Judi Shade, Dave Shade, Margaret Magill, Jim Magill, Brody Klein, Chip Curry, Jim Camp, Liz Patrick, Diana Roberts, Connie Curry, Tom Lawrence, Maria Vahle Klein, Susan Volmer, Jana Levic
Joshua Curry is on Instagram, Twitter, and Facebook as @lucidbeaming