It's been a prolific year for Lucidbeaming: multimedia art by Joshua Curry. Beginning with a new art studio and finishing up with a host of Winter projects.
The main theme has been expansion. I took my music and found ways to incorporate performance and sculptural elements. The video work has been scaled up to building size and fed into monitors for physical effect. I pushed my limits on public interaction by making 9(!) appearances with a booth at SubZERO/First Fridays.
Personally, I've found new creative friendships and nurtured existing ones. I have no interest doing any of this alone, even though my studio life is very private. It's just more interesting to find other people also putting their energy into something non-commercial, independent, and fucking weird.
The Citadel Studio
I had to give up my apartment at the beginning of the year. Instead of trying to find another (expensive) combined live/work spot, I took the plunge and leased an art studio. It turned out to be a good decision because my creative environment has been stable while the sleep spots have come and gone.
It has generous storage up top and a separate room for music production. My whole workflow and process has grown because of the space. I feel very fortunate to have this.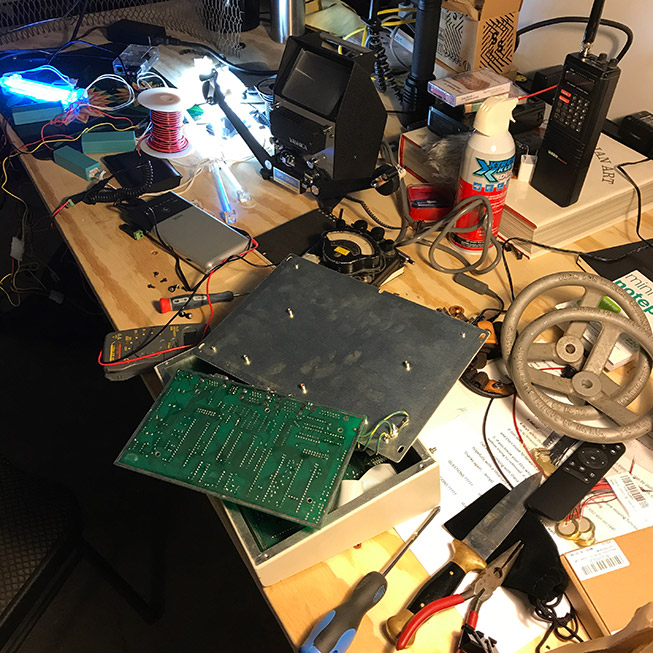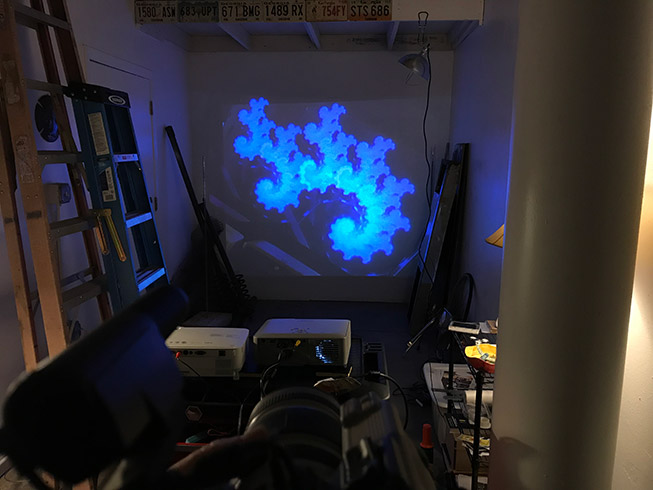 Wolves
I have a thing for wolves, especially wolves living at the Chernobyl nuclear disaster site. This work is the beginning of a long-term project about wolves that requires "vectorized" images of wolves in motion.
Making these digital drawings involves a variety of new skill-sets and hardware for me. I have worked with animators and graphic designers who have experience digitizing images and working with stylus devices, but never had much opportunity to dive in myself.
I couldn't afford a high-end Wacom tablet or iPad Pro, but I did find an older tablet/laptop hybrid at my aunt's house one Thanksgiving. She used it for teaching before her retirement. When it was new, hybrid tablet/PCs were novel and sounded great, in theory.
When I got it, the battery was dead and Windows 7 had been locked by security and update issues. I got a new battery and installed Linux Ubuntu. Setup was not flawless, but it has ended up working fine (including all the stylus/touchscreen features).
To do the rotoscoping of video footage, I exported all the video frames with ffmpeg and then used Inkscape to draw over the top of them. So far, so good. It's time consuming and manual work, but meditative and interesting.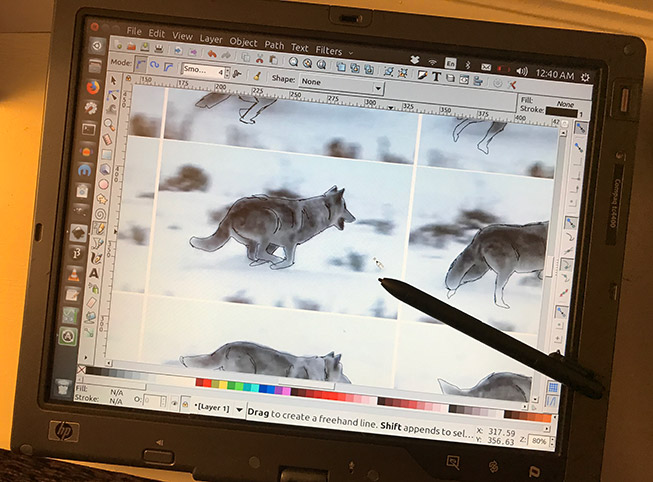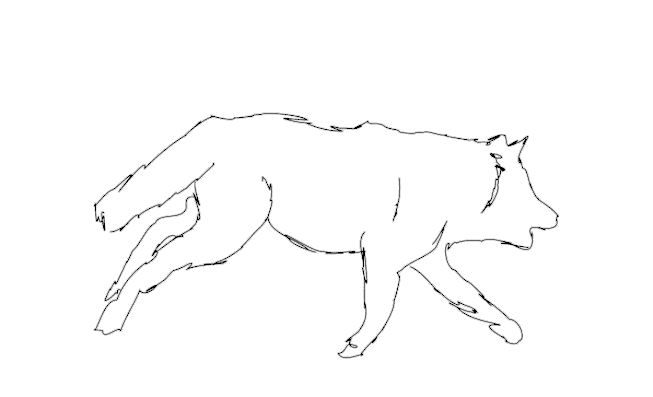 Critters gets reviewed on Badd Press
I released my second full-length album, Critters, late last year. To promote it, I used more organic methods than with my first album, Spanner. Basically, I sent it out to a lot of blogs that cover ambient and experimental music. It's tough to cut through the volume of submissions they get. One of the people who did respond was Kevin Press at Badd Press.
It was strange but gratifying to read his review when it got posted early this year. For many years, I worked at an alt-weekly newspaper in Charleston, SC and saw lots of bands and artists try to get reviewed or covered. I also saw lots of them get worked up about the reviews. I admit to feeling a little nervous about what he might say. His review was thoughtful and generous.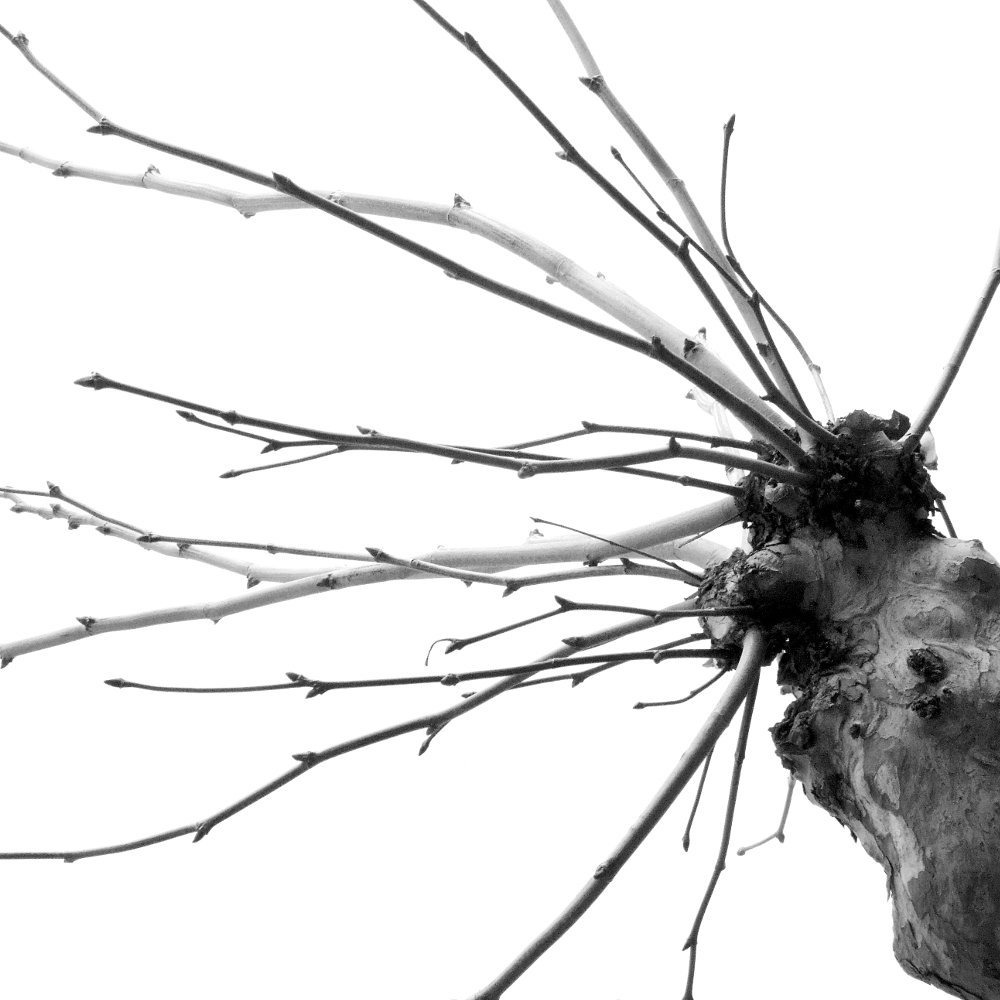 Multimedia artist and experimental composer Joshua Curry in San Jose, California can lay claim to a unique accomplishment. His November release Critters is its own language. It is unlike anything we've heard. Mixing recordings of wildlife at sunset with synthesizers and a genuinely unique approach to composition, Curry has produced a phenomenal 15-track album.

— Kevin Press, Badd Press

Read his full review of Critters on the Badd Press website.

Critters on college radio
The first time I heard my music on the radio was in April of this year. I was on my way to the DMV to handle the smog certification for my vehicle. On the radio was KFJC, a local college radio station that has a huge broadcast reach in this valley. I heard a song that sounded really familiar and after a few seconds I realized it was mine. I got chills.
It was such a rad feeling to catch it on the radio at random. A month before, I had packed up 40 or so custom CDs of my album Critters and shipped them out to college radio stations across the U.S. and Canada. So much was going on at that time that I didn't follow up to see if any of the stations played it.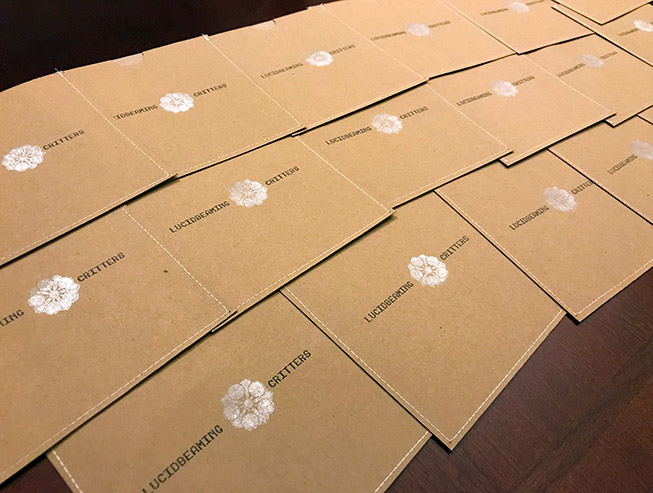 After some web searches later that night I found that lots of stations had picked it up and put it into regular rotation. I didn't even know. KALX in Berkeley, WNYU in New York, KFJC here in San Jose, CISM in Montreal, KBOO in Portland and many more had been playing songs from Critters.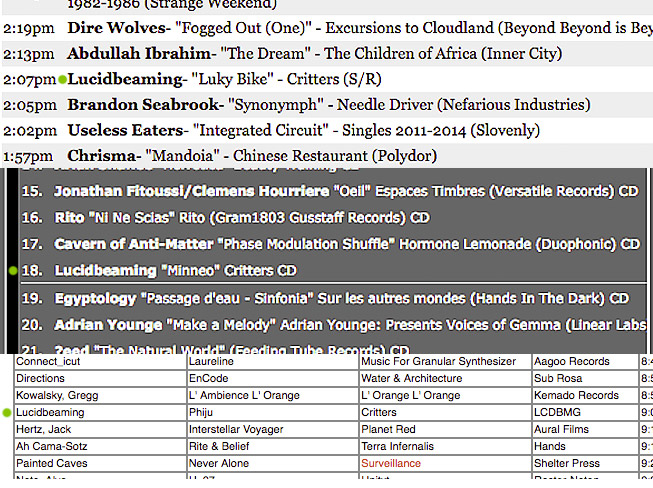 It's hard to say what the tangible impact of the airplay really is, though. My Bandcamp sales and Spotify streams had bumps in their numbers, but not a huge amount.
One thing I can say is that I've learned the entire process from making music to getting it on the air. From recording and post-production to mastering and export for streaming and CD masters to online distribution and building radio mailing lists to packaging, UPC labeling, and shipping to verifying airplay.
That experience will probably come in handy in the future.
Neuroprinter
Well, it was an interesting failure.
Built with the SubZERO festival in mind, I thought Neuroprinter might be an interesting sculpture for people to interact with at an outside festival. I was able to complete it in time for the festival, but rushed through some of the fabrication and it showed.
The original idea was to build a back projection box for flickering film loops. It grew into a memory machine that took the process of memory imprinting and visualized it as a sci-fi prop. The final presentation lacked context and connection, but I learned a lot about the processes to execute the individual stages.
Although it wasn't meant to be a piece of clean hi tech sculpture, the metalwork ended up being too rough and poorly supported. I intended to have a patched together kind of aesthetic, but it was too much.
People thought it was cool, but it required way too much explanation to survive as any kind of sculptural object. I have since dismantled the piece, but have plans for the components as individual pieces.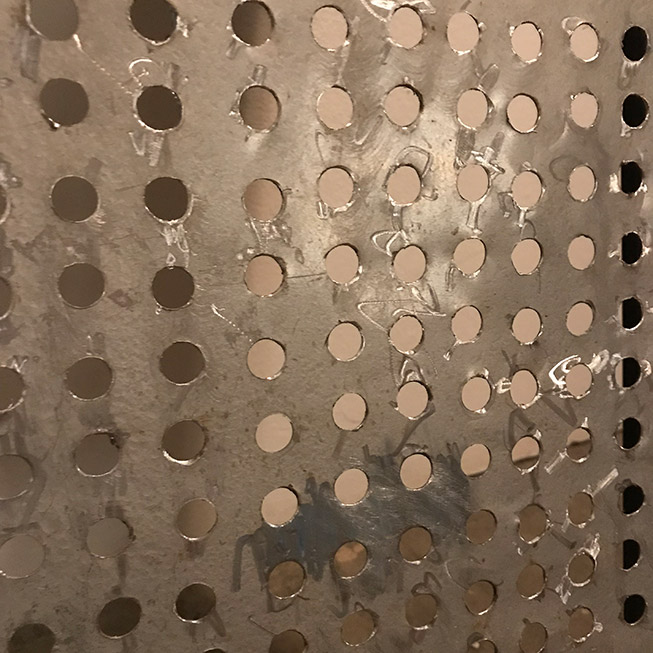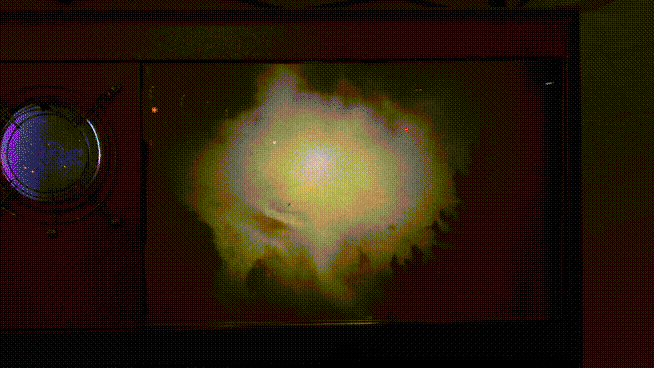 MaChinE
This was a sleeper of a project that had been on my mind for years. Back in 2002, I made a Flash-based drum machine/sampler using scanned machine parts and sounds from circuit bent toys. It was produced for the E.A.A.A. (Electronic Arts Alliance of Atlanta) annual member show and lived on as a page on a lonely web server (now removed because Flash is dead).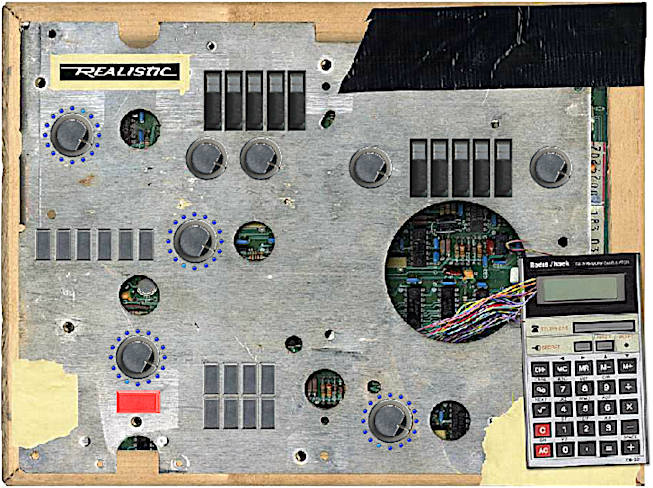 I always thought it would be cool to build a kiosk for people to use it. Over the years, Flash was eventually phased out and my plans to port it to HTML5 were always deferred to something shinier and newer.
At surplus electronics stores this year, I noticed that they were dumping fairly nice flat-screen VGA monitors for peanuts. I picked one up and found some wire screen and miscellaneous junk to build an object base. It runs on a Raspberry Pi with an old version of Flash.
Tech folks see it as a novelty and laugh when I tell them it was made with Flash. Kids love it though and I'm glad to see out it the world with people playing with it.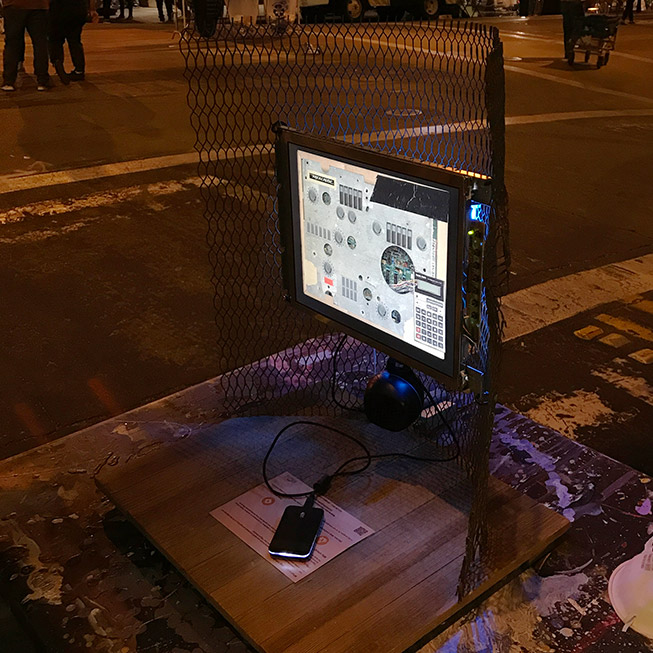 Noise toys
Last year I built two Raspberry Pi based synthesizers using ZynAddSubFx and Fluidsynth. I still use them to make music, but they are more software based than hardware. They sound great, but don't have external controls for LFO or filter changes.
Recent efforts are more tactile and simple. With more outboard effects and amplifiers available in the studio, I've focused more on basic sound generators and sequencers/timers. One of the noisier ones is a Velleman KA02 Audio Shield I picked up locally. It has some timing quirks that I took advantage of to generate some great percussive noise.

Krusher and Sympathy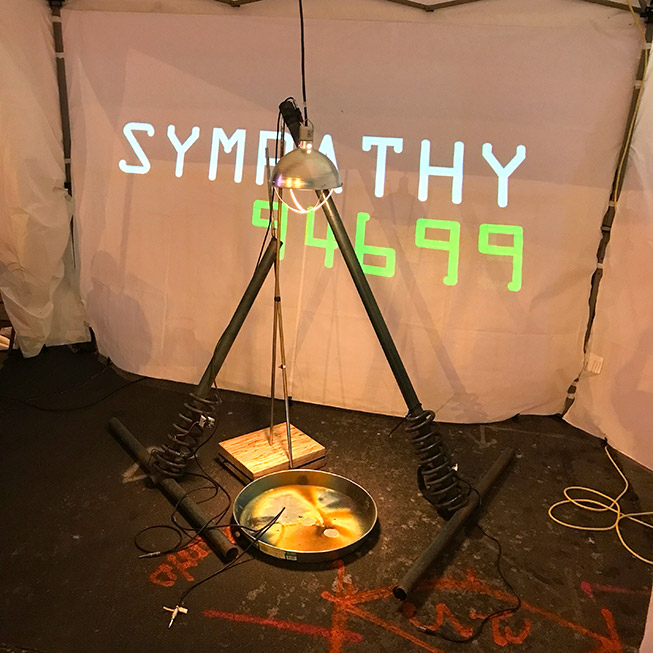 Built from steel pipes, heavy duty compression springs, and contact mics, these metal sculptures are primal noise instruments. The smaller one, Krusher, was the first version. I wanted to build a kind of pile driver drum machine. After considering mechanical means of driving it, I had more fun just playing the damn thing through a cheap amp.
The tall one, Sympathy, came later and with more contact mics attached. After playing them together, an idea for a performance was born.

SubZERO

For the past couple of years, SubZERO Festival and subsequent South FIRST FRIDAYS have become primary destinations for the kind of work I'm doing. It's a great chance to gauge reaction to the work and motivation to finish projects.
It can also be nerve wracking and challenging. This year I chose an ambitious timeline and also debuted three distinct pieces and performances at the same time. In the end it all worked out, but things got pretty stressful towards the last minute. I had to take shortcuts with execution and I wasn't happy with some of the consequences of those compromises.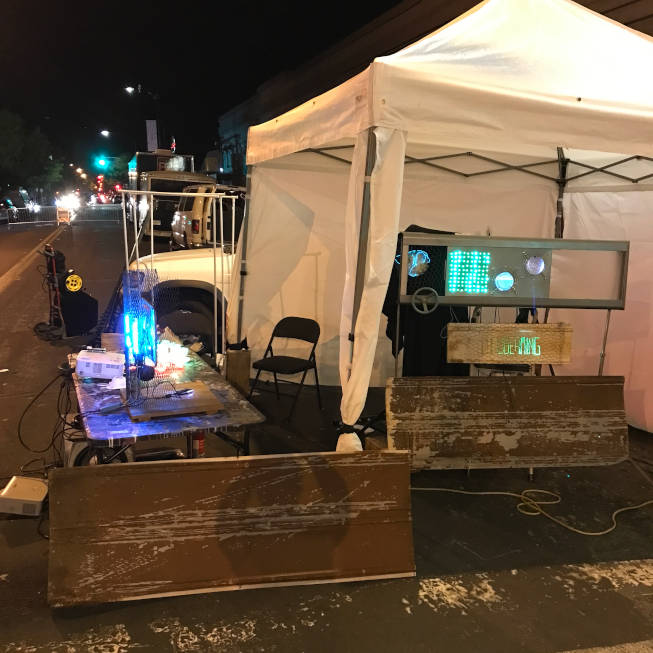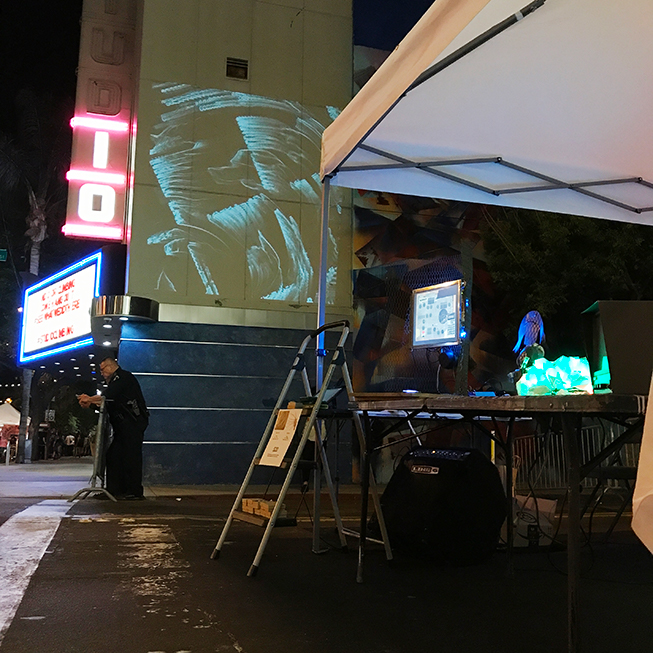 The peak of the festival for me (and all of 2018, really) was the performance of the sculptures I had made, in a piece I simply called Sympathy. It was loud, intense, and had tons of multi-colored smoke. I did two cycles, one on each night of the festival. I also did one last performance in October, at the end of First Fridays.

80s skating
Back in the late 80s, I was living in south San Jose and was a skateboarder along with most of my friends. It was a huge part my life and my first professional work as a photographer was produced during that time. I went on to be a professional photographer and multimedia artist for the next 30 years.
Taking advantage of the foot traffic during Cinequest this year, I picked four skating photographs from 1988-1990 and had them printed as large scale posters. I chose images of Tony Henry, Brandon Chapman, Tommy Guerrero, and Jun Ragudo.
I talked to Bob Schmelzer, owner of Circle-A skateshop in downtown San Jose about hanging them in his windows temporarily. He was totally cool about it and the photos were seen by hundreds during that time.
I left the posters at his shop and when he finished some work on the back wall, he re-installed them to face 2nd Street. They are still there now and I'm stoked to walk downtown and seem them hanging.
One of the images of Tommy Guerrero was seen by Jim Thiebaud of Real Skateboards. He asked if he could use it on a limited edition deck to raise money for medical costs of the family of Refuge Skateshop. Of course, I said yes. They all sold out and the Refuge family got the funds. I also managed to snag a Real deck with my photo on it. Fucking rad.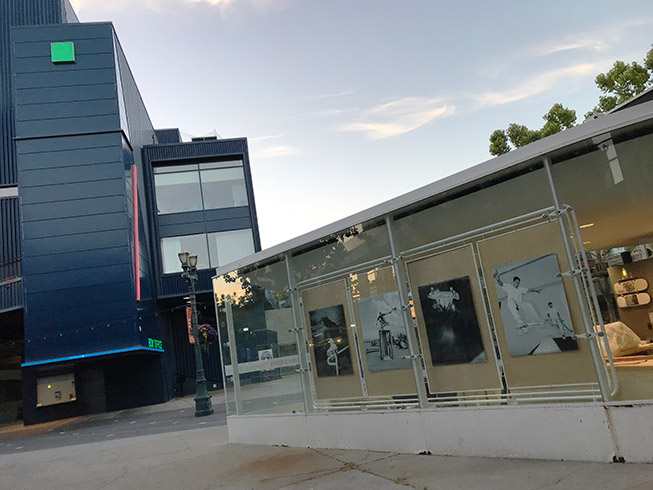 Noise and Waffles
A couple of years ago I went to Norcal Noisefest in Sacramento. At that time, most of my exposure to live experimental music was around San Francisco and was electronic and tech oriented.
After seeing some videos of booked performers, I knew I had to check it out. I went for two days and had a mind blowing experience. I had never seen that level of pure volume and abstraction. It was more metal than any metal show I had seen.
Most importantly, I was impressed by the community. The noise scene around there is one of the last refuges of true experimental sound without institutional gatekeepers. Keeping everything together was Lob Instagon, the festival organizer.
When I got back to San Jose, my whole musical world was upside down because of that festival. I started to explore a much heavier side of sound. I also wanted to have something to perform live that wasn't centered around a laptop or screen.
After building Krusher and Sympathy, I posted some video of me playing it that eventually got back to Lob. He reached out and invited me to perform at one the weekly Sacramento Audio Waffle shows he runs at the Red Museum in Sacramento.
I was stoked to say yes. The show was a lot of fun and I liked the other groups that played. Also, I got to hear Sympathy on a substantial P.A. with big bass cabinets. That shit rumbled the roof.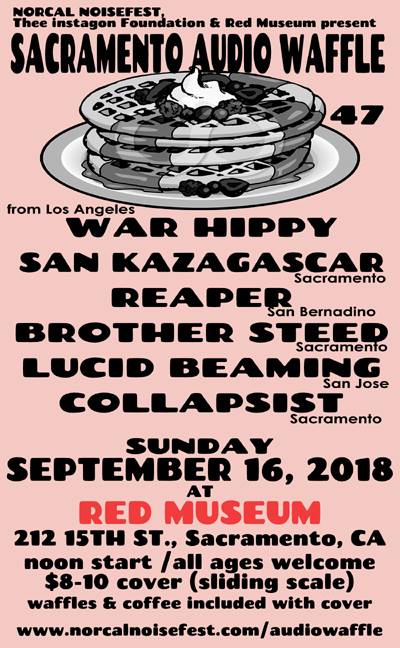 Cassette
One of the things I noticed at Norcal Noisefest was how much they didn't care about online distribution. Lots of tapes on tables and even some Vinyl releases. CDs were there but not as much as cassettes.
A limitation of the live performance at SubZERO was a lack of powerful amps to drive the bass tones. Lots of sub 75hz tones get generated by the steel pipes and springs.
So, I made some full range recordings of both and ran them through a little EQ and compression. Here is the tape of that effort, inspired by the noise heads in Sacramento. Fun to make.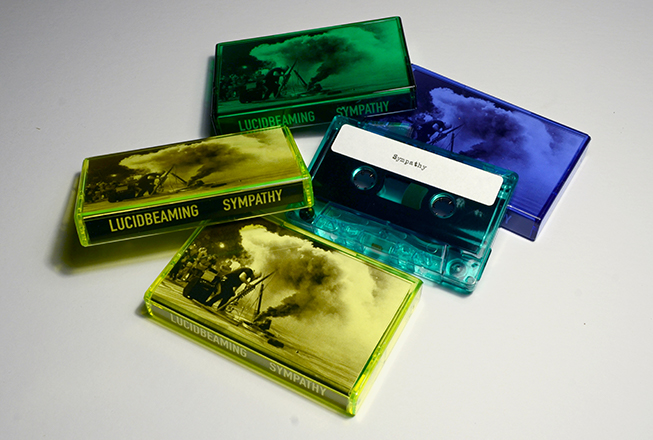 Teleprofundo
Having my own studio space has expanded the scale I can work in. The back wall gets used regularly for video projection experiments. Most of what I do with projection is pretty old school. I don't use VJ tools or Final Cut or Adobe Premiere for this.
It's just a few cheap office projectors, an old Canon Hi-8 camera for feedback, and a variety of video source footage. Now with the 8mm film projector, I can add even more footage to the mix.
I found an interesting source of public domain film footage, the New York Public Library. Their online archives are outstanding.
Recently, I picked up some monochrome security monitors and have been running all kinds of feedback and low-fi video signals through them.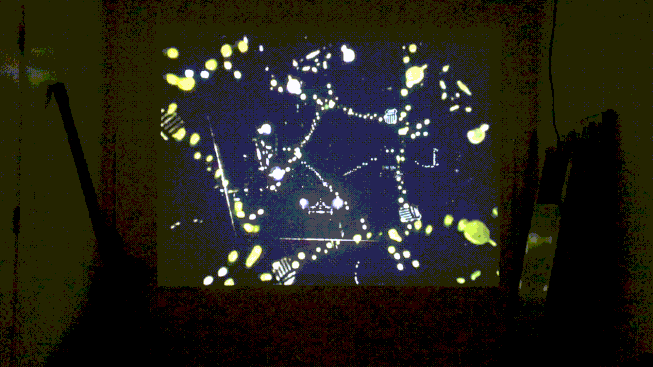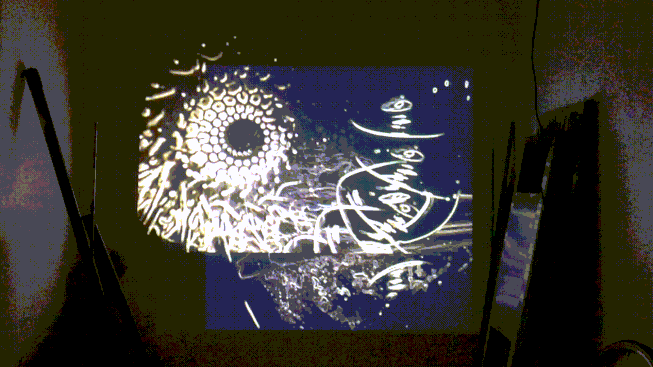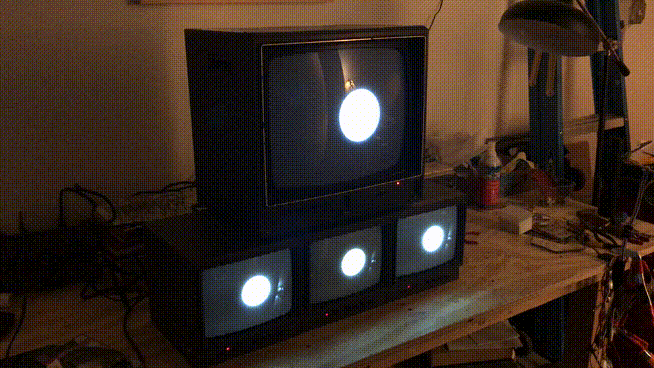 Macroglitch
While trying to find smooth ways of converting 24fps video to 30fps, I stumbled across niche online communities that are into high frame rates. I was looking for simple, but high fidelity, frame interpolation. They are into generating slow motion and high fps videos of video games.
One of the most interesting tools I found is Butterflow. It uses a combination of ffmpeg and OpenCV to generate impressive motion interpolated frame generation. Things got really interesting when I started running short, jumpy, and abstract video clips through the utility.
Below is a video clip I shot of a thistle from two inches away, at 24fps. With Butterflow and ffmpeg, I stretched it out more than 10X. It's kind of like Paulstretch for video. The line effect is from a sobel filter in ffpmeg.

butterflow -s a=0,b=end,spd=0.125 in.mov --poly-s 1.4 -ff gaussian -r 29.97 -v -o out.mp4
Since then I've expanded this project in many directions. I've set up all kinds of table top macro video shots with plants, dead insects, shells, electronics, and more.
Generating so much stretched footage has taken days of rendering and filled terabytes of space. One of the first finished pieces I made was this music video for the song Aerodome. The audio waveforms were generated with ffmpeg.

Short form abstract video
When I released Spanner, I found out how tricky it is to deal with audio on social media. Sharing things with SoundCloud kept the interest trapped in the SoundCloud ecosystem and people rarely visited my website or Bandcamp page. I used Audiograms for a while, but didn't like the aesthetic.
So, I loaded the raw audio files on my phone and started using clips in 60 second videos I would make with video apps. That was two years ago. Since then, I've made around 200 videos for social, mostly Instagram.
I try to keep them unique and don't use the presets that come with the apps. A lot of the videos represent multiple generations through multiple apps in different workflow. Also, most of the recent videos have custom audio tracks I make with soft synths and granular sample manglers.
I get asked how I make them all the time. So, here are all the "secrets".
I start out with geometric images or video clips, like buildings or plants or something repetitive. Most of the time I capture in slow-motion. Then I import clips or images into LumaFusion and crop them square and apply all kinds of tonal effects like monochrome, hi/low key, halftone. For static images, I'll apply a rotation animation with x/y movement.
Then I'll make some audio in Fieldscaper, Synthscaper, Filtatron, or use a clip of one my songs. That gets imported into a track in LumaFusion. Then I trim the clip so it's just below 60 seconds, which is the limit for Instagram and useful for others.
After exporting at 720×720, I open it in Hyperspektiv, Defekt, or maybe TiltShift Video. I pick a starting transformation and then export it, bringing it back into Lumafusion or maybe running it through more effects.
That process gets repeated a few times until I end up with something I like or the clip starts to get fried from too much recompression. They key is to keep working until I get something distinctive and not a iTunes visualizer imitation.
It's funny that I have people who follow all these little videos and don't realize I do all kinds of more substantial work. But, I'm glad to have something people enjoy and they are fun to make.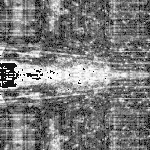 Where is Embers?
Embers is alive and well at Kaleid gallery in downtown San Jose, CA. It's been there for a while now and I still enjoy going by the gallery to watch people interact with it.
The future is uncertain though. It's a fairly large piece and made of lots of rice paper. I hope to find a permanent home for it this coming year.
Next year
I'm not really a a goal oriented planner. Most of my life and creative work is process oriented. I learn from doing and often there is something finished at the end of it.
I hope the upcoming year offers more chances to learn, get loud, and work with like-minded folks.