Making art in the pandemic age requires new perspectives on context, value, and presentation. I had to deal with these challenges just like every other artist this year. I was already producing work that occupied a hybrid online and physical space. But, the new context relied much heavier on virtual space. I handled that for a while but got burned out with online life.
So, I spent a month driving across the country while we were still on lockdown in March. I deleted or suspended most of my social media and headed east from the California coast. I brought a wide variety of multimedia recording tools and came back with a harvest of imagery, sounds, and experiences. The rest of the year was heavily influenced by that trip.
I did find exhibition opportunities despite so many institutions being shutdown. It was important to me to keep momentum going when it came to in-person art exhibitions. It was very difficult though, because attendance was low even when I managed to carve out a space. COVID-19 was a tough adversary.
I made it through this year healthy and am very grateful for that. It has given me a new appreciation for what I do while still stomping around on the planet. My life is fully focused on making art now and I hope to sustain that through the years to come.
Camel
The first release of the year was a noise tape made with a synthesizer I built. I'm happy with the recording and the tape, but the promo for it might be more interesting than the thing itself. I guess that's the age we live in.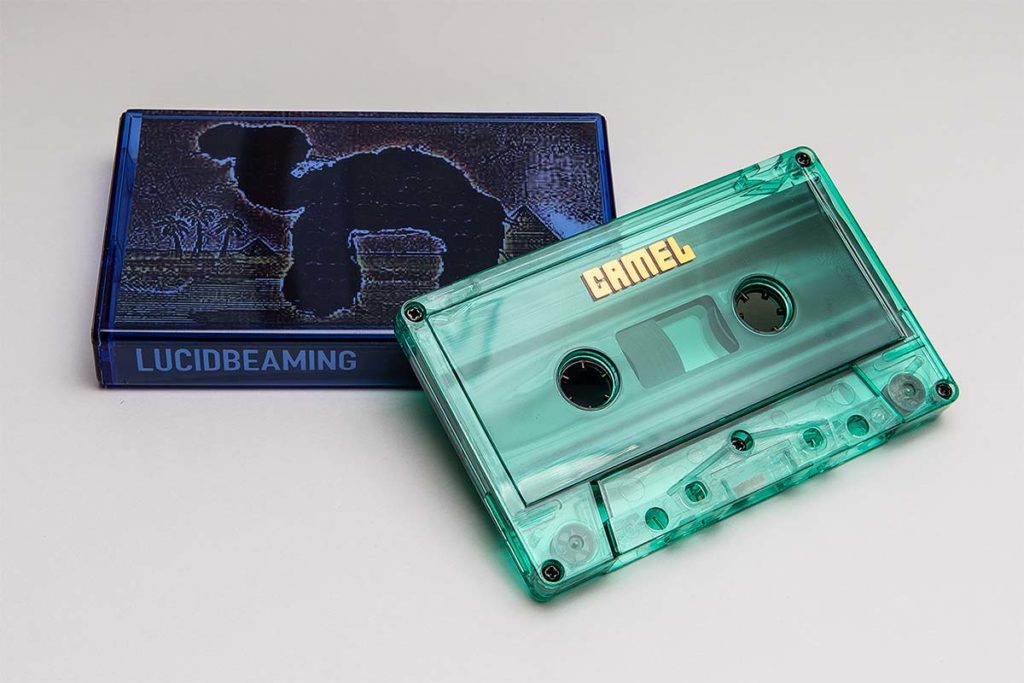 The full recording can be heard and purchased on Bandcamp.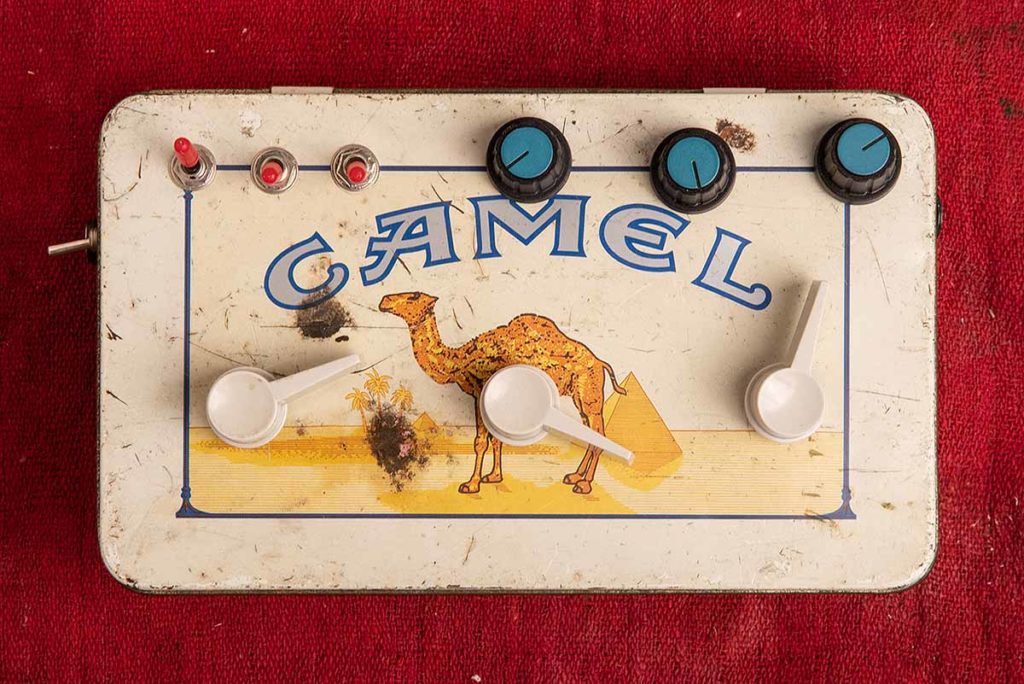 Jojo Crawdad
In March, I embarked on an epic trip across the country. It was expensive, dangerous, cold, and isolating. I'm so glad I did it.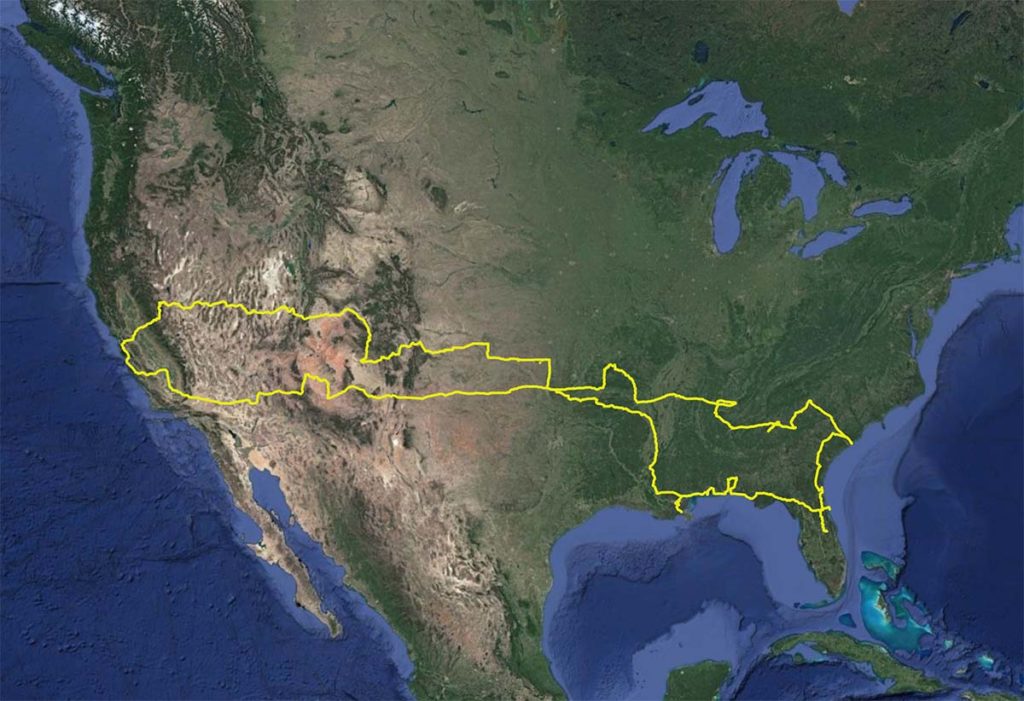 It all started with a need to visit a library in Slidell, Louisiana. I used to work for a newspaper there and it went out of business without leaving a digital archive behind. One of the few records of the work I did there is on microfiche at the local library. It is only accessible in person. I needed to get copies of one particular story I did and began thinking of a way to get there.
Driving there offered a chance to make art along the way. But, it's a loooong drive and if I'm going that far, why not all the way across? So, a trip across the country was born.
March was still cold and once I got into the mountains, even colder. The roads were empty in long stretches and even more in the country backroads I took. I rarely got above 65mph or took the mega interstates.
I brought a drone for aerial shots, dSLR, GoPro, car mounted cameras, and an audio recorder. My intent was to harvest a wide variety of media for use in post-production over the next year. There wasn't much of a preconceived concept or aesthetic I tried to realize. It was just to be present, over and over, far from home.
The title JoJo Crawdad comes from combining words I picked up once I crossed the Mississippi. A jojo is a small potato wedge that gas stations served fried. Crawdad is a familiar version of crayfish, which are tiny lobster shaped crustaceans that folks eat by the bushel in Louisiana.
I was on the road for a full 28 days.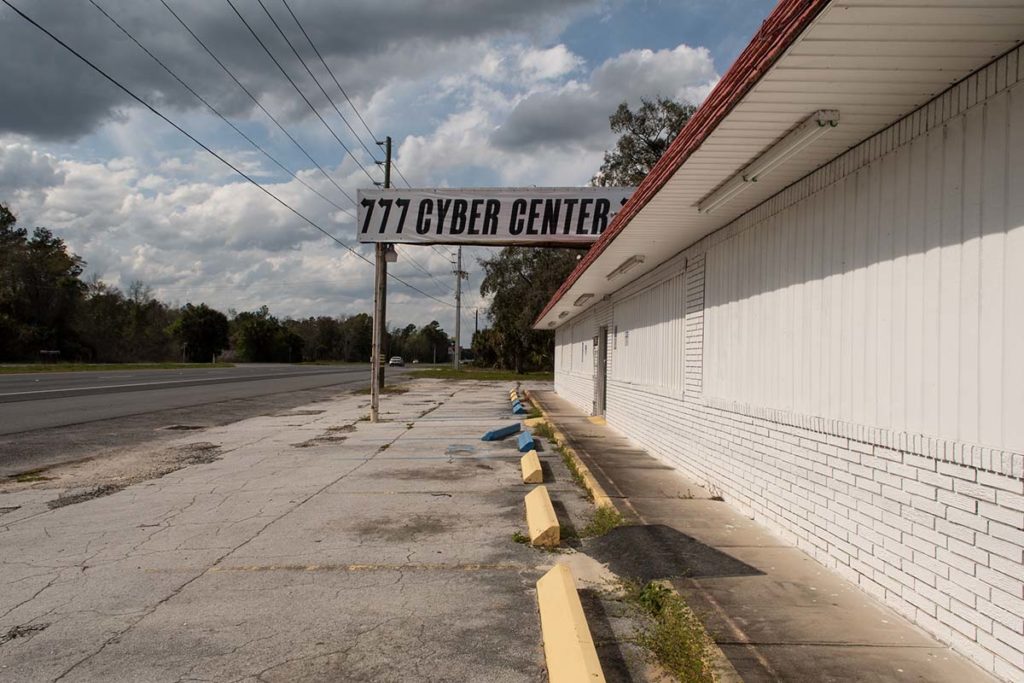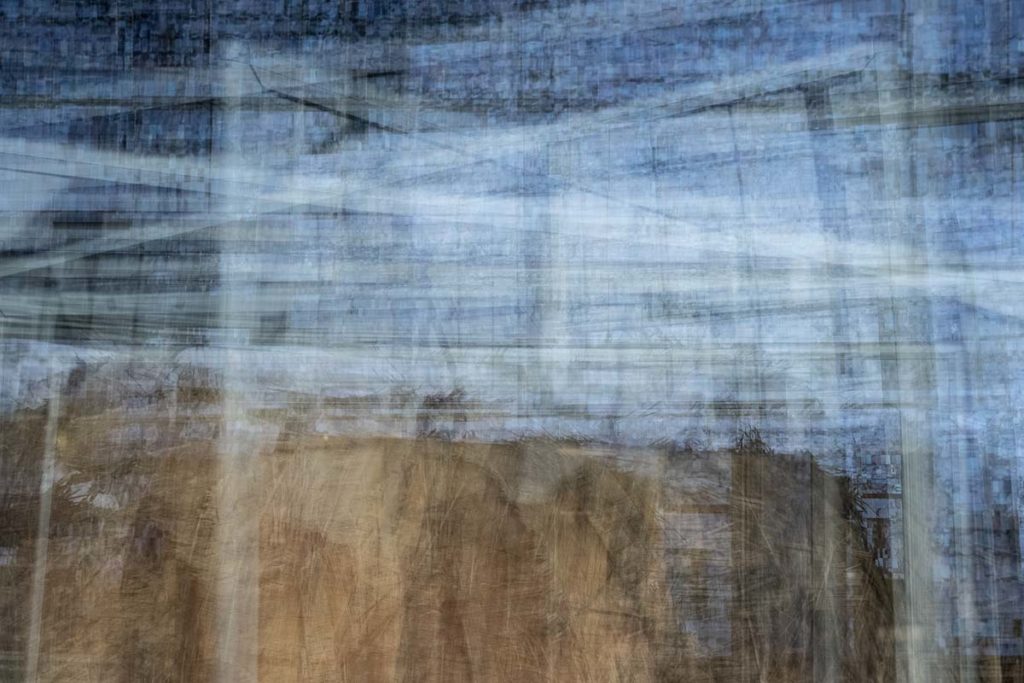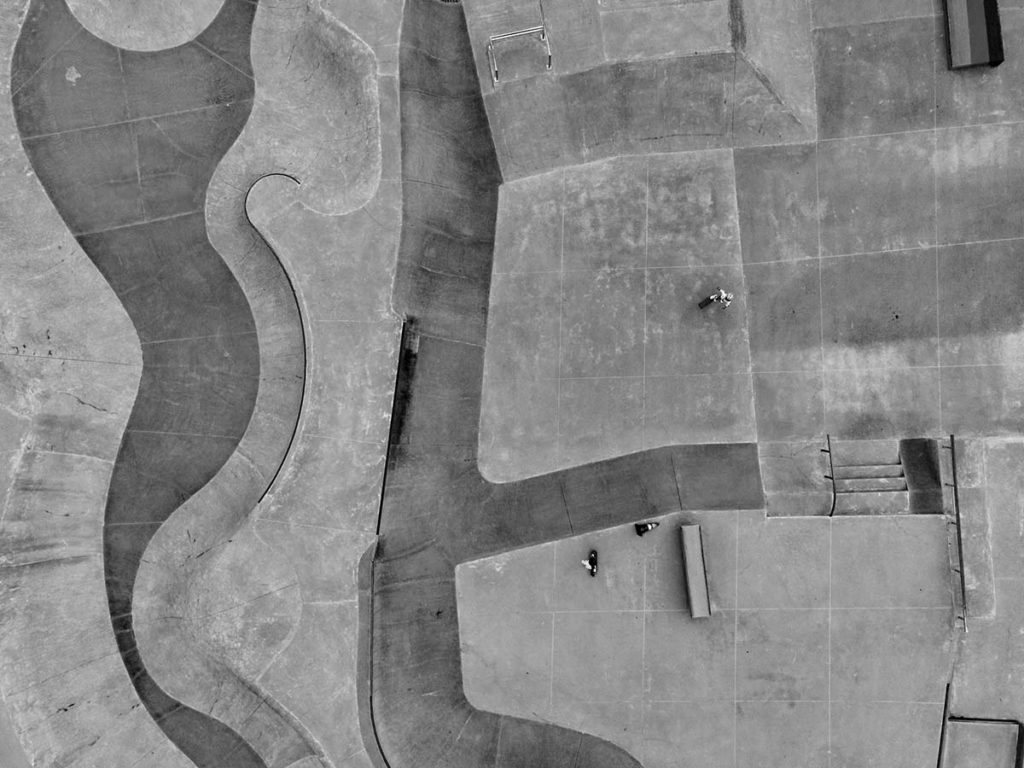 The abstract images that look blended are not made with Photoshop or on a computer. They are the result of 10 multiple exposures made on the same frame inside the camera. They got made while on-site and once they were shot, there was fixing or changing them. I got to the point where it was a little dance movement to get a variety of viewpoints in each frame.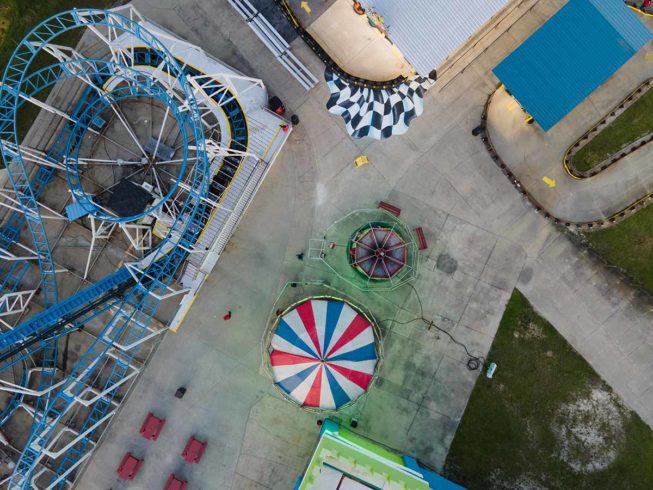 Some of the photography ended up in my solo show at Art Ark in August. A video piece, Vulture, was recently in a film festival. There is still so much to work with. I feel like this trip will be paying dividends for many years.
Wolves
The Wolves project I started last year was chosen by the Palo Alto Public Art Program for a 5 night performance in May. Each night I rode around a pre-chosen area near downtown Palo Alto, projecting the animation onto houses and businesses.
Of all the public art projects I've done, this one got the most press coverage by far. A large profile in the local section of the San Jose Mercury News was a highlight. It was followed by coverage from ABC 7, Palo Alto Online, Hoodline, Content Magazine, and some online aggregators. It also got shared a lot from those outlets and I spotted it on social media a few times.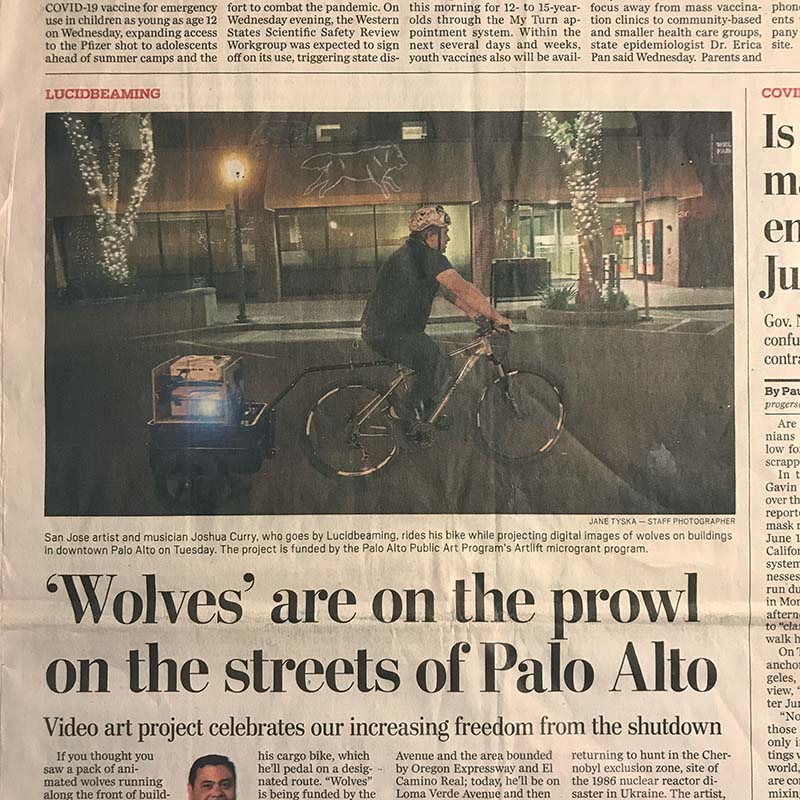 For this event, I created a Wolf Tracker web app for people to find my location when I was going through their neighborhoods. At first I tried to use the location sharing feature of my phone, but that was too limited. So I bought a GPS module for the projection cart and wrote some Python scripts to get that data to my server. It was well intentioned and worked fine in testing but I had issues out in the wild. It turned out that certain locations around Palo Alto actually blocked the GPS signals. I have no idea how to explain it, but was able to verify the block multiple times. Weird.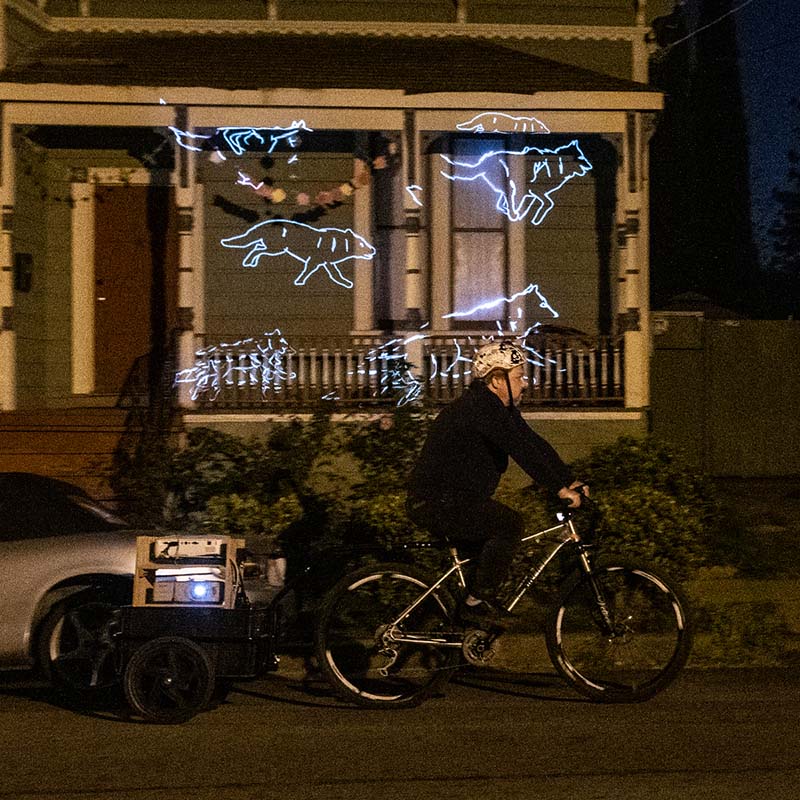 A friend from Haiti came by one of the nights and put together this cool video.
Refactor
A local gallery, Kaleid, had recently cleared out an extra room and was offering it as an installation space. I had a variety of tech art and video I had finished the previous year. Although it was a small show, it got some foot traffic and was a good size for the smaller interactive work. It ended up being a retrospective of the past 5 years in multimedia.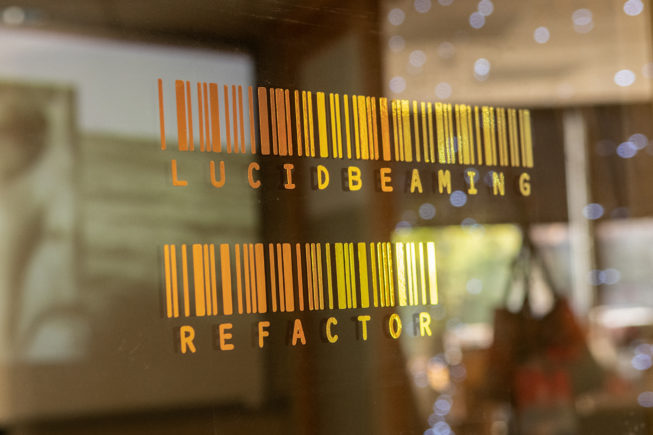 Beacon
In August, I had a large solo show of recent work at Art Ark in downtown San Jose, California. It's a beautiful space and has hosted many top notch shows. I was offered the Summer residency and used that to put together 62 artworks for display.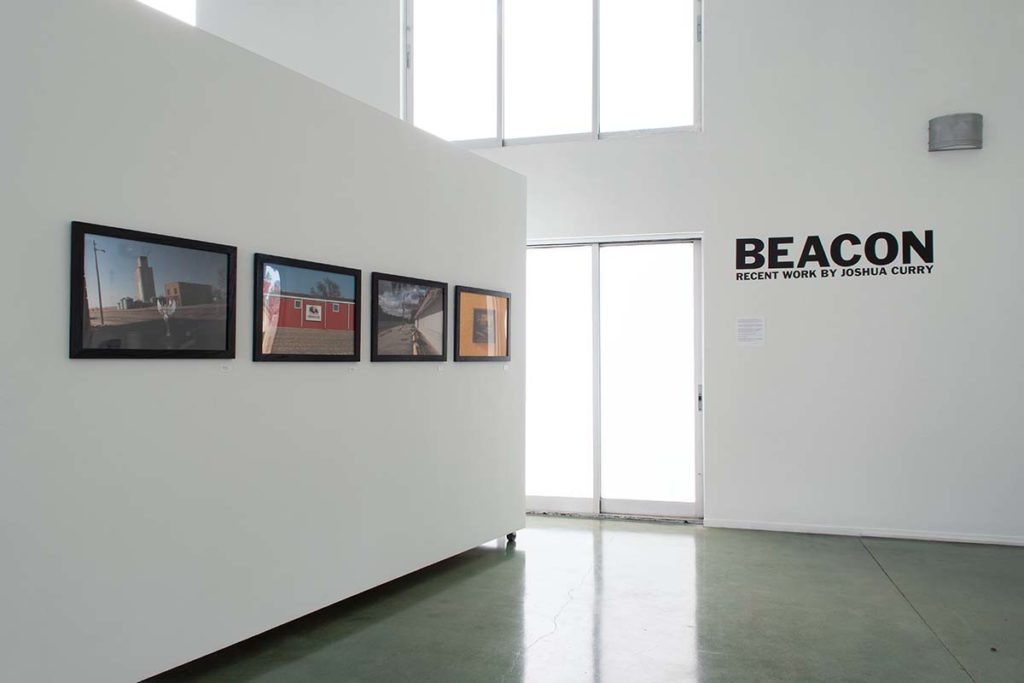 Logistically, the biggest challenge was framing. Only a handful of the pieces were framed. To save money, I decided to frame them myself. I thought it was a good idea at the time, but it ended up being a massive effort.
I cut down around 2700ft of oak strips into 192 pieces with rabbets and angled ends. Then I assembled and stapled the frames by hand. The work was in different sizes, so the frames were made in sized batched. The acrylic came at a discount from Tap Plastics (thanks guys!). The window mats were also cut by hand and that was time consuming.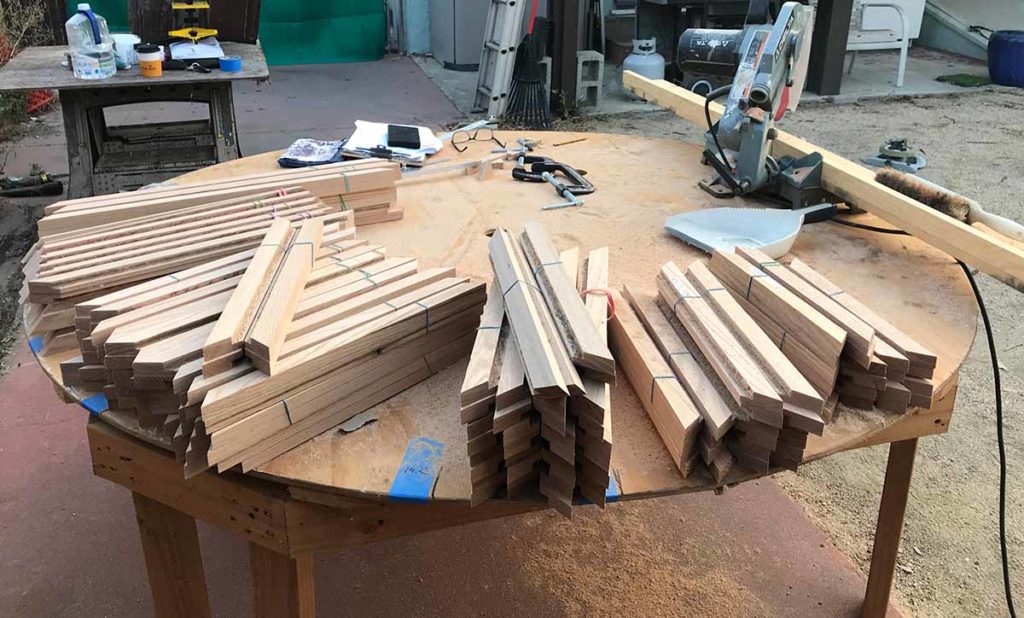 The work paid off though because the presentation was really nice. Consistent and clean. Also, I now have a lot of framed work for distribution and exhibition. I sent some of them to national shows I explain later in the post.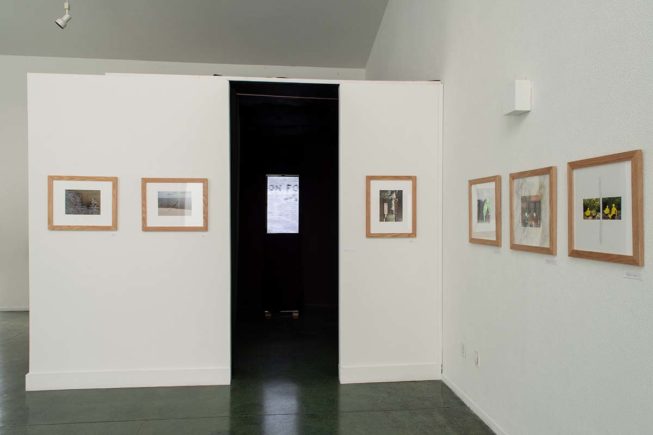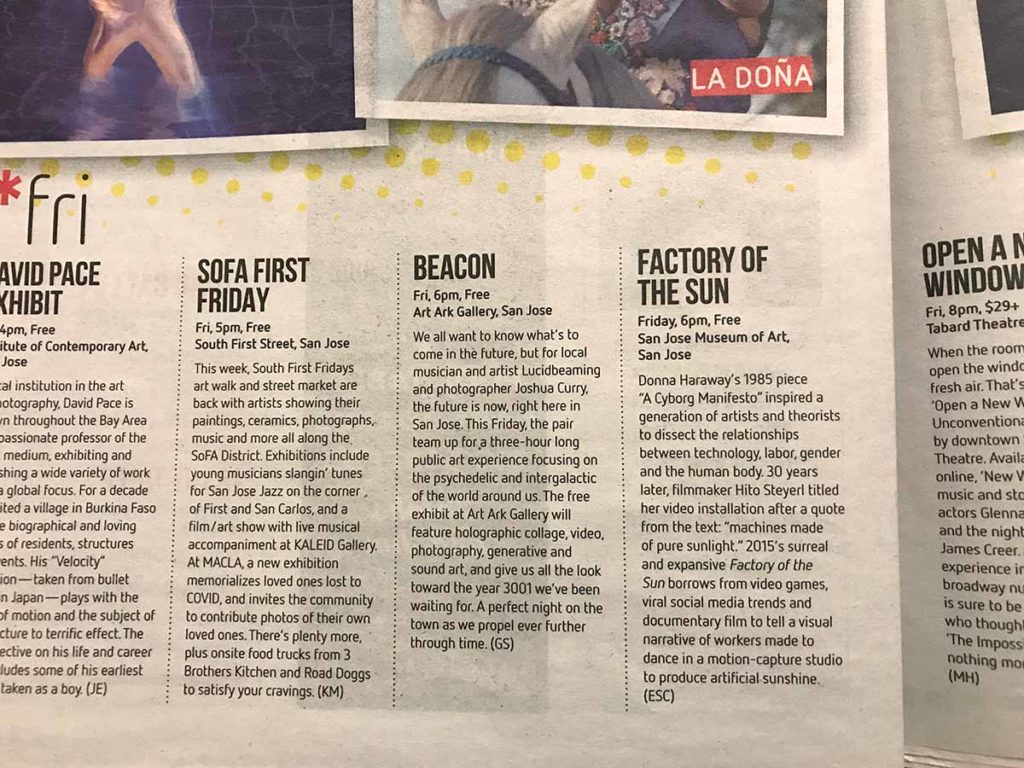 Going National
This year, I made a real effort to exhibit across the country and in other contexts as well. I made use of CaFE (Calls for Entry) and FilmFreeway for film festivals. There is so much competition for just a handful of exhibitions now. The internet makes more available to people like me, but can also overwhelm organizers with thousands of entries. A small cottage industry has sprouted up around the whole enterprise and there are a lot of sketchy "pay-to-play" shows. That means I'm supposed to pay for the privilege of showing my work. I'm not doing that.
But, I did find some interesting opportunities out there. It was mostly regional group shows. I didn't get to attend, but I thought it would be good to know the process of getting work to them from beginning to end. Shipping anything fragile is incredibly expensive now. I wasn't anticipating that.
I had a piece in a virtual show at the San Luis Obispo Museum of Modern Art. A pianist named Ting Luo saw that and reached out for some collaboration. She founded an organization call New Arts Collaboration and wanted to know if I wanted to contribute some video. It took some time going back and forth, but we put together a collaborative multimedia piece she performed recently in San Francisco. Brett Austin composed the music, titled How Deep is the Valley, and I made a custom video piece for it. She played the piece live a few months later.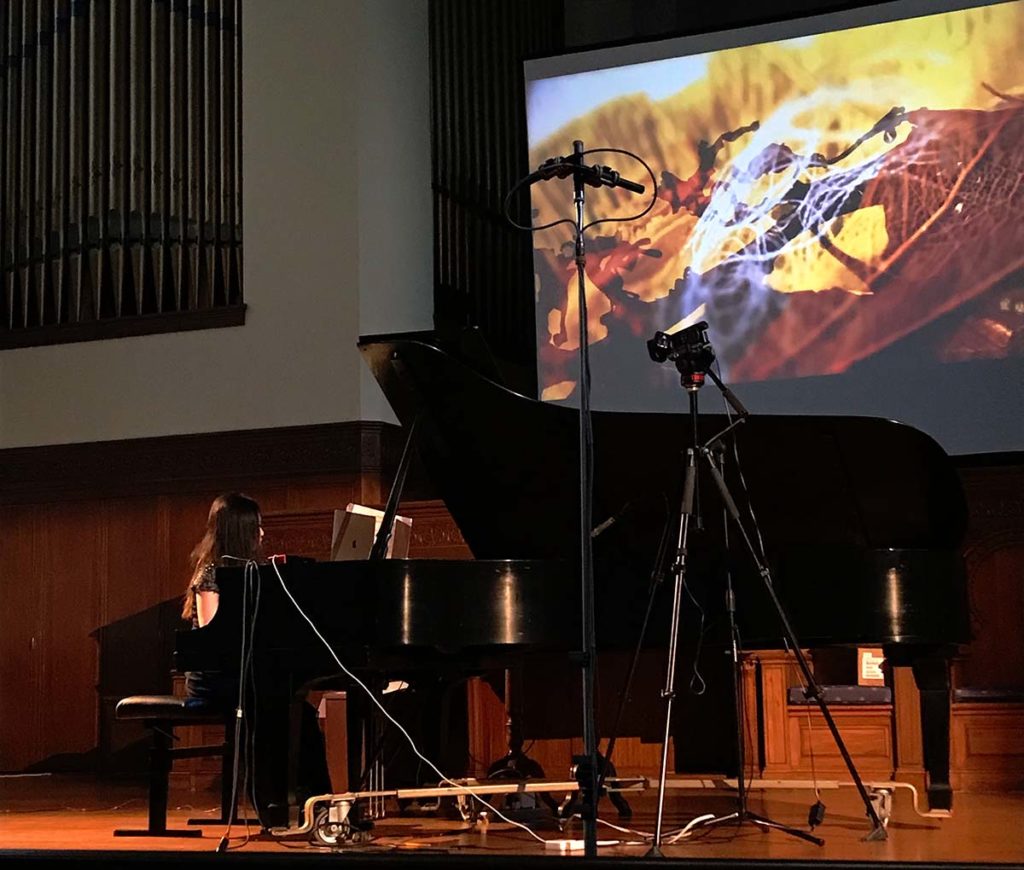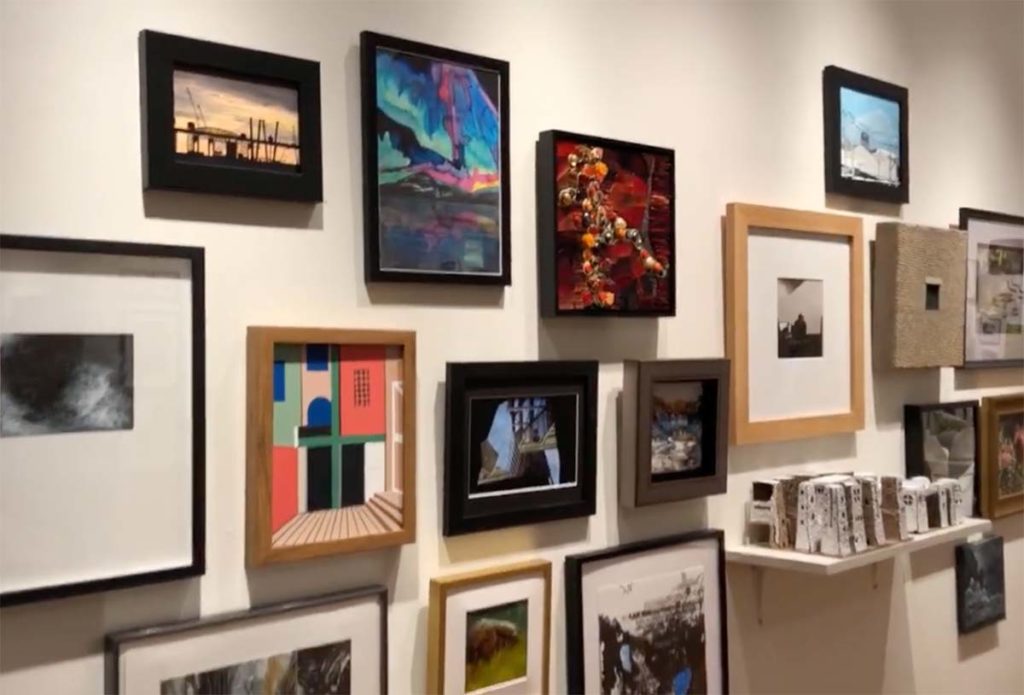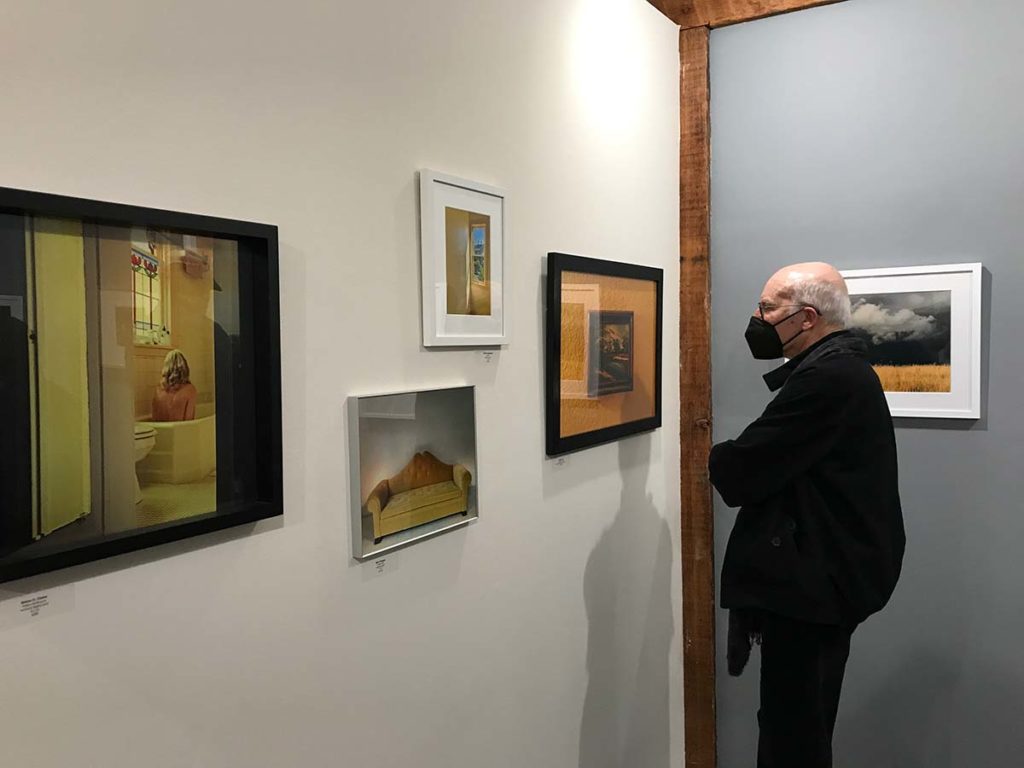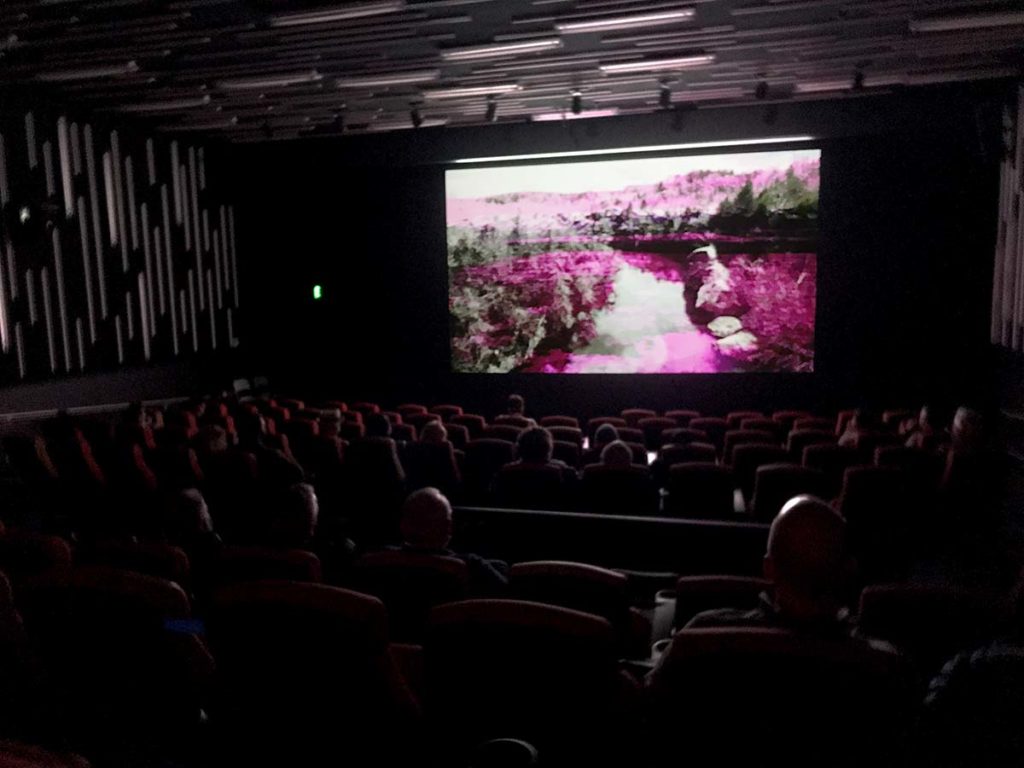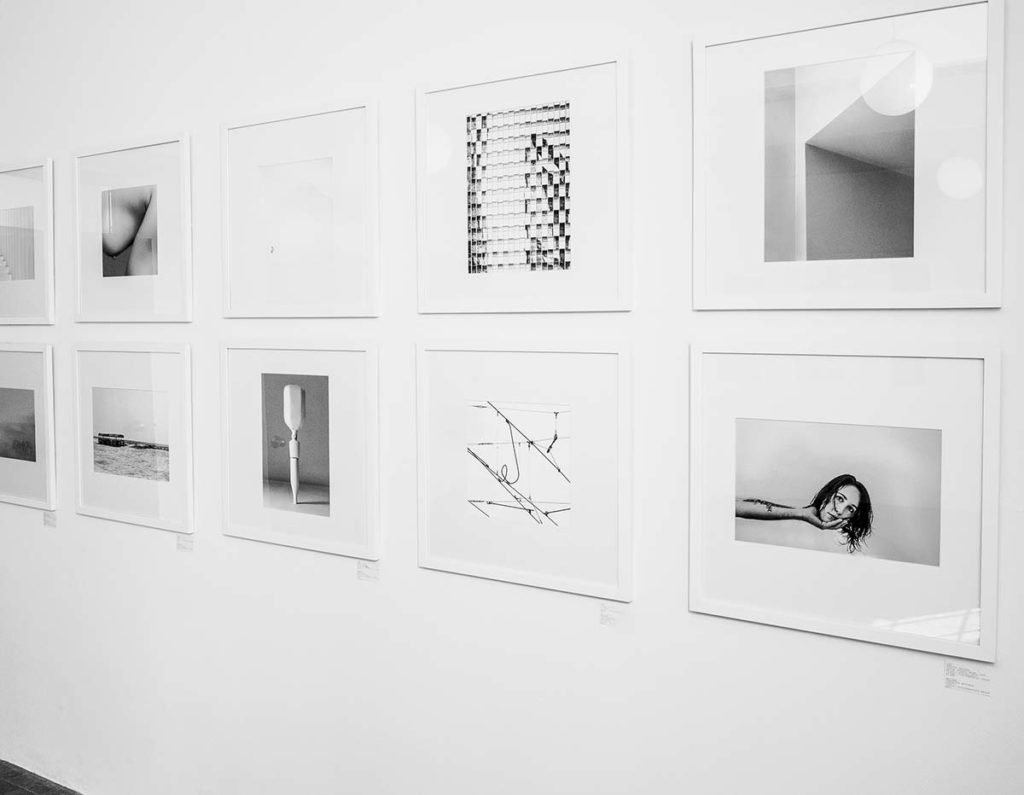 Alviso Aviary
A nearby nature preserve is one my favorite day hikes. It's very open and clear and has a rich variety of birds. I took some footage of lost seagulls one day and was inspired to make some animation assets. This is a minor project that will eventually get folded into some other context.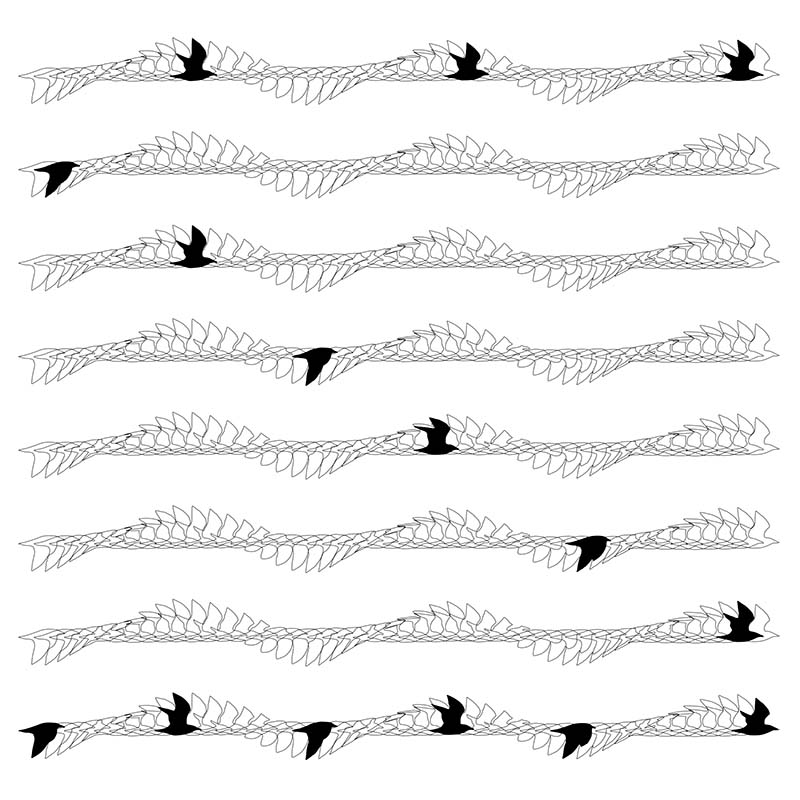 Bric-a-brac
I found a gold frame in a trash can that had upholstery fabric inside. It was probably a mount for a Virgin of Guadalupe statue, which is common around here. I brought it back to my studio and was inspired to make use of this Pirelli tank car graphic I had been digitizing. After some cleanup work in Inkscape, I sent the outline to my vinyl cutter with some black vinyl material. The result was pretty sweet.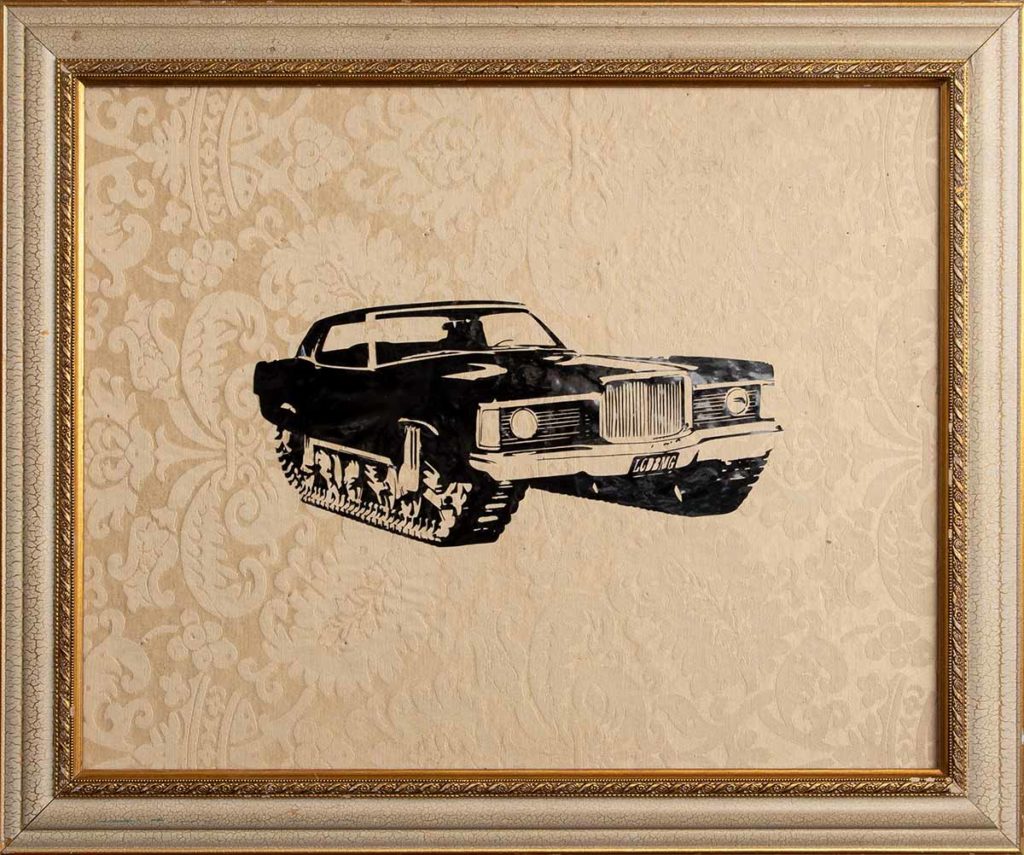 Fresh from the success of my trash collage, I decided to do a whole series. I scoured some local thrift stores and a few yard sales for frames. My art studio neighbor had a bunch he donated. I ended up with 12 cheapo gold frames of various sizes.
My grandfather used to work re-upholstering furniture and I thought there might be a supply store for that kind of work. San Jose didn't have any furniture specific shops, but there are a lot of fabric stores. One of the best was actually close to my house, Fabrics R Us. They had a bunch of inexpensive, but ornate and metallic, upholstery fabric. I came back with a nice variety that I added some donated wallpaper to.
A trip to home depot got me some MDF that I cut up and wrapped in fabric. I took some photos of the results and began to lay out designs in Inkscape. I had done a lot of vector drawing for the Wolves project, so I had a workflow ready.
I spent many months collecting imagery and designs to convert to graphic outlines. I avoided the internet and made use of the local library and even some old Playboys I bought at a record shop. I have plenty to work with now, but the digitizing and plotting has been time consuming.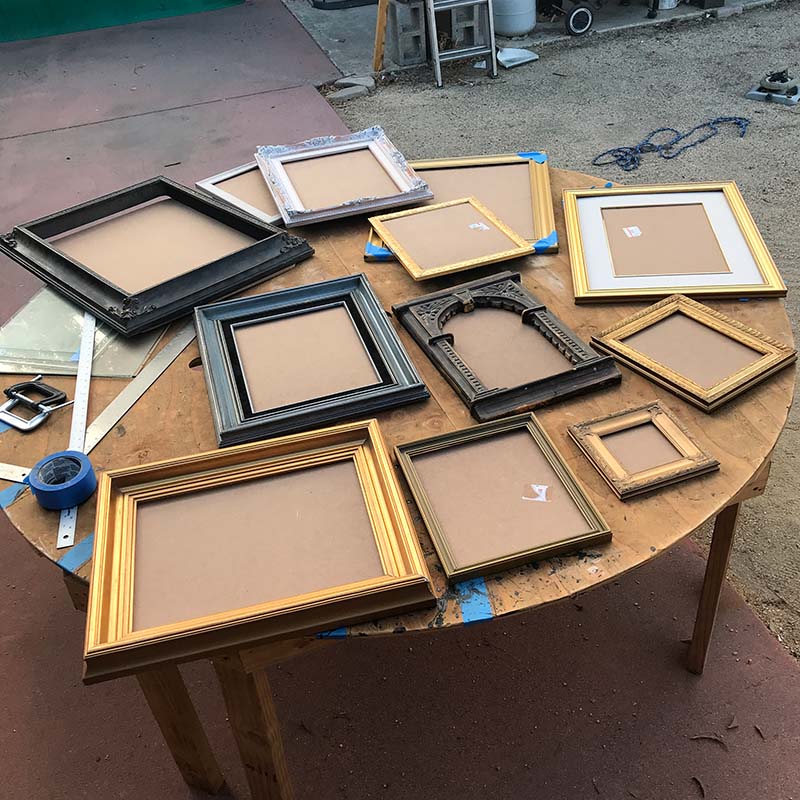 [ dogs ]
After 4 years of experimenting, fabrication, and sound design, I premiered [ dogs ] at Anno Domini Gallery in December. It's an interactive sound art experience that involves 9 people carrying around autonomous speakers with computers inside them. The speakers bark, snarl, or squeal if near one group and resonate within a tone chord if near another group.
Each speaker can detect the distance and disposition of all the other speakers. Some are friends and others enemies. Participants discover which is which by walking around and getting real-time audio feedback from those around them.
The project began with the purchase of 10 cheap sub-woofers from the now defunct Weird Stuff Warehouse. They were unpowered and basically empty. I decided to adopt them and figure out what to do later. At first, I thought I might build an independent 10 channel synthesizer. That would require some kind of communication between them so I bought a bunch of Raspberry Pi Zeros and got to work.
After many different approaches and some new inspiration from Norcal Noisefest, I decided to make them loud and antagonistic. This came at a time when social media conflict was off the charts, for reasons I'm sure everyone knows. The noise and anger level got so high, it was hard to tell who was saying what and why.
A chance encounter at Streetlight Records brought a CD full of animal sounds into my studio. I used many of those clips as the basis for layering and pitching individual sounds for each speaker. The result is a tiered collection of distorted and loud samples of animals in distress. The psychological effect of working on those sounds for hours and hours was pretty intense.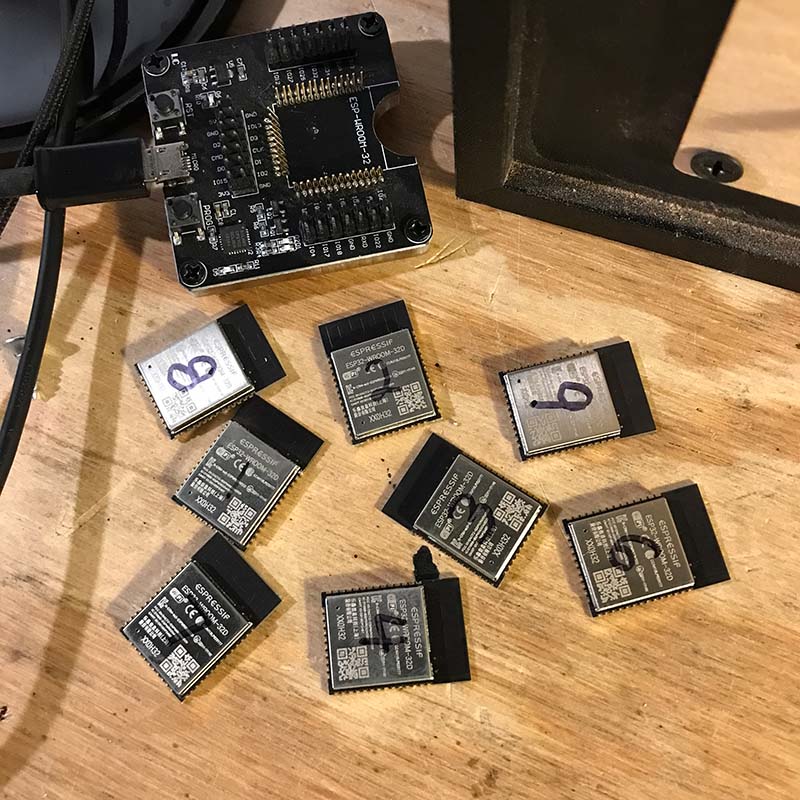 In the end, the experience is heavily influenced by the people participating. 2 rounds of experiences with different groups yielded very different results. It achieved the status of social experiment above whatever artistic intent I wielded. The conversations after each experience were really interesting and lasted a while.
Next year
On my trip across the country I had a lot of time to think. I wondered about the distribution and reception of this art work. I thought about what I really wanted to accomplish. I managed to carve an art life out of this crazy year and I'm proud of that. It was exhausting, though.
A couple of months ago, I got some consequential personal news. I had to decide where I was going to live in 2022 because the space I am renting is being sold. So, I decided to take the leap on a move I have been considering for a while.
I'm moving to Berlin, Germany. I hope to connect with the art community there and globally. So, next year my annual art year recap will come from Berlin.