This year saw the completion of new sound sculptures and large installation work. It offered up new performance contexts and an expansion of exhibition options. The projects have grown in scale and scope, but the internal journey continues.
Wheel of Misfortune
A few years ago I noticed neighborhood kids putting empty water bottle into spokes of the back wheels of their bikes. They got a cool motorcycle sound out of it. One of them had two bottles offset and that produced a rhythmic but offbeat cycle that sounded interesting.
It gave me the idea to use a bicycle wheel for repeating patterns the way drum machines an sequencers do. I also thought it would be an interesting object to build from a visual standpoint.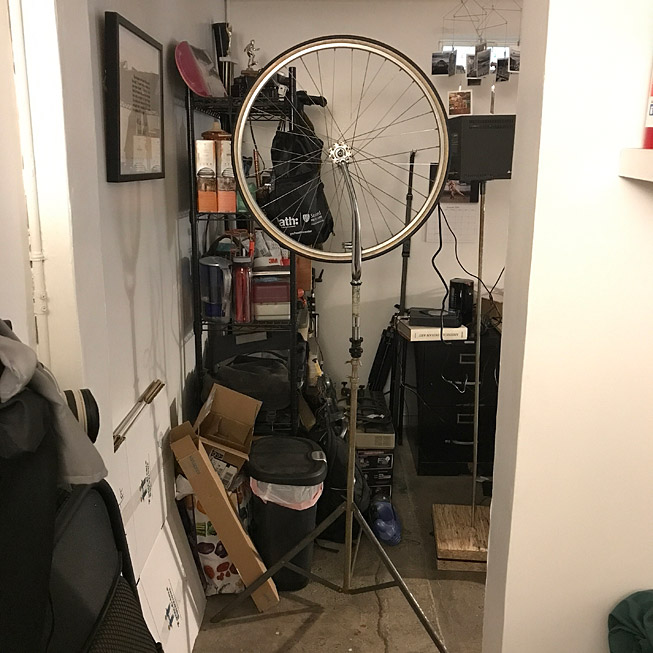 It took a while, but having the workspace to lay out larger electronics assemblies was helpful. I settled on five sensors in a bladed array reading magnets attached to the spokes.
A first performance at local gallery Anno Domini with Cellista was fun, but the sounds I had associated with the triggers lacked bite. I reworked the Raspberry Pi running Fluidsynth and built 14 new instruments using a glitched noise sound pack I released a few years ago.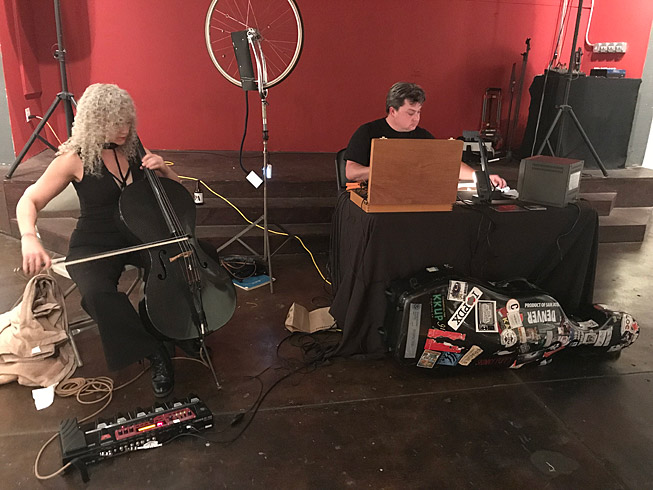 To switch between the instruments I came up with a contact mic trigger using a chopstick and an Arduino. It has a satisfying crack when tapped and cycles the noise patches effectively.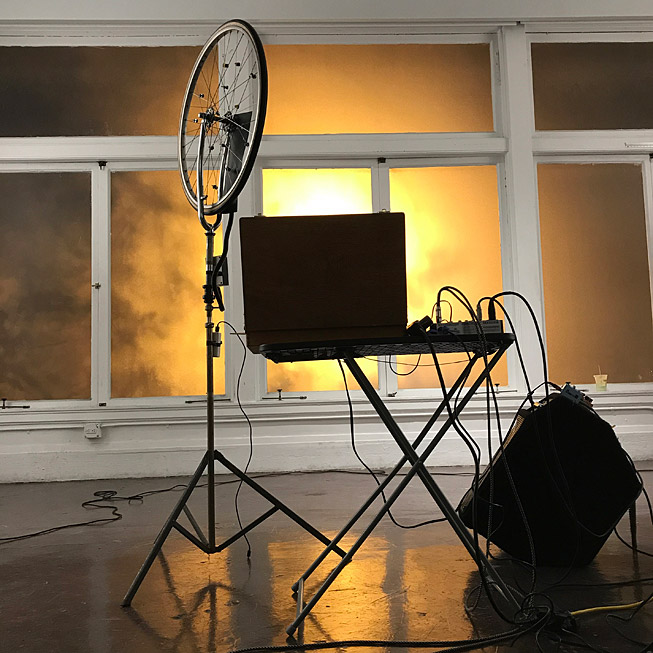 The Wheel got a loud and powerful public test at Norcal Noisefest. People responded not only to novelty of the bicycle wheel, but the badass sound it could make.
Oracle
I get asked to do sound performances more often these days and it can be challenging because I don't have much outboard musical gear. So, I have a general effort to create more gear to use live. A common need is to have an interesting way of triggering longform loops I created in my studio.
Taking a cue from the grid controllers used by Ableton Live, I had the idea to build a player that keyed off objects placed under a camera. Reading location and size, it could arrange loops in a similar way.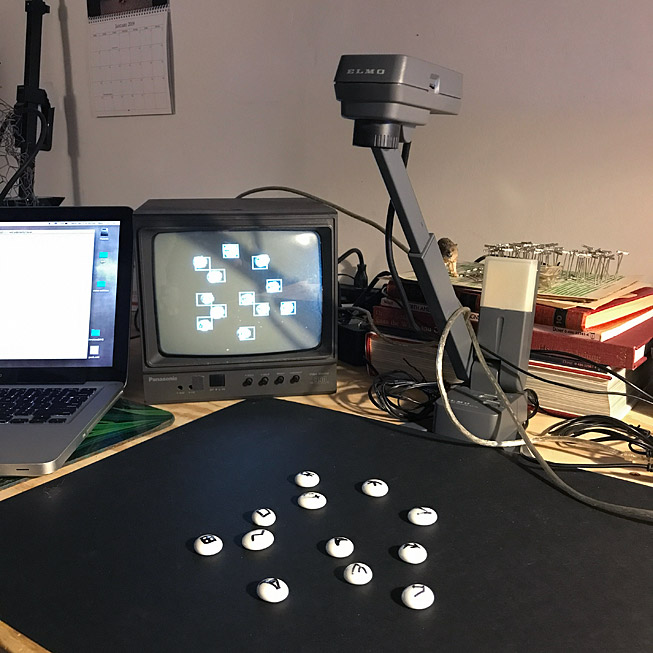 The project kicked off with an analog video stand I found that was used for projecting documents in a business presentation. I connected that to a primitive but very effective computer vision board for Arduino called the Video Experimenter.
After months of testing with different objects I settled on small white rocks that brought inherent contrast. At a library sale I picked up a catalog of pictograms from Chinese oracle bones that had fascinating icons to predict the future with.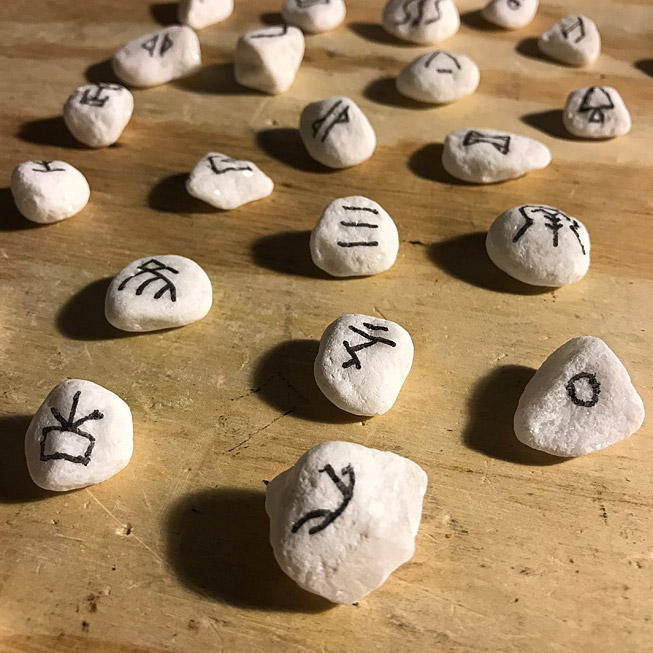 That clinched the theme of an "oracle" divining the future of a musical performance rather than a musician executing a planned performance.
It has turned out to be really flexible for performances and is a crowd favorite, especially when I let people place the stones themselves.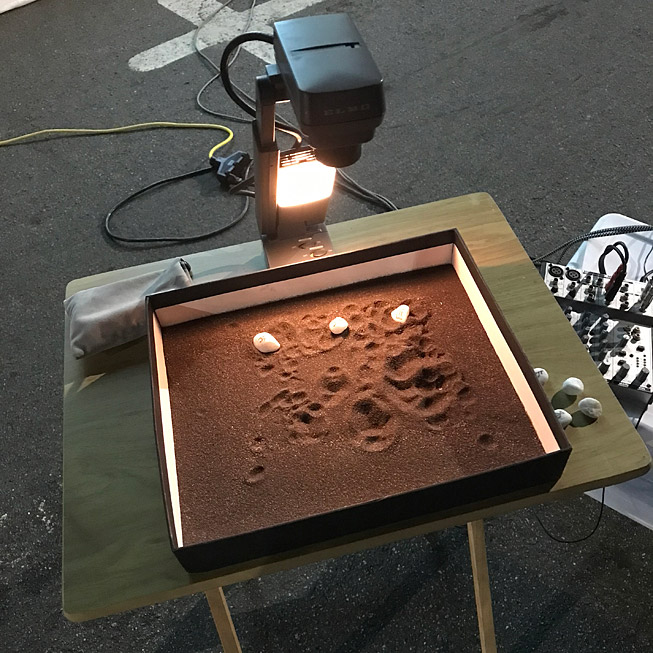 Delphi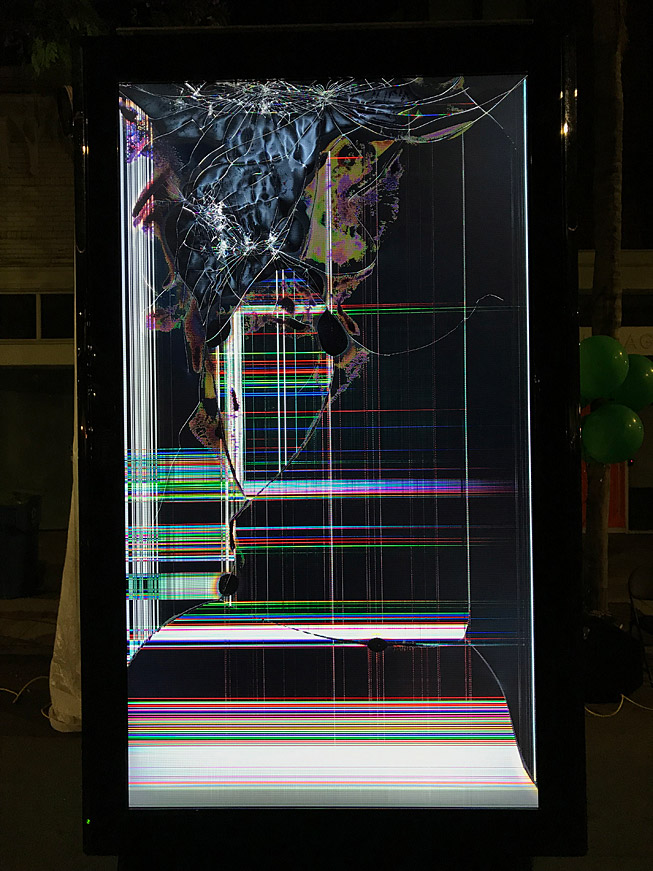 People give me things, usually broken things. I don't collect junk though. I learned the hard way that some things take a lot of work to get going for very little payoff. Also, a lot of modern tech is mostly plastic with melted rivets and tabs instead of screws or bolts. They weren't meant to be altered or repaired.
Big screen TVs are a good example. One of the ways they got so cheap is the modular way they get made with parts that weren't meant to last. I got a fairly large one from Brian Eder at Anno Domini and was interested in getting it back up.
Unfortunately, a smashed HDMI board required some eBay parts and it took more time than expected. Once it was lit up again and taking signal I started running all kinds of content through the connector boards.
When hung vertical, it resembled one of those Point-of-Purchase displays you see in cell phone stores. I though about all the imagery they use to sell things and it gave me the idea of showing something more human and real.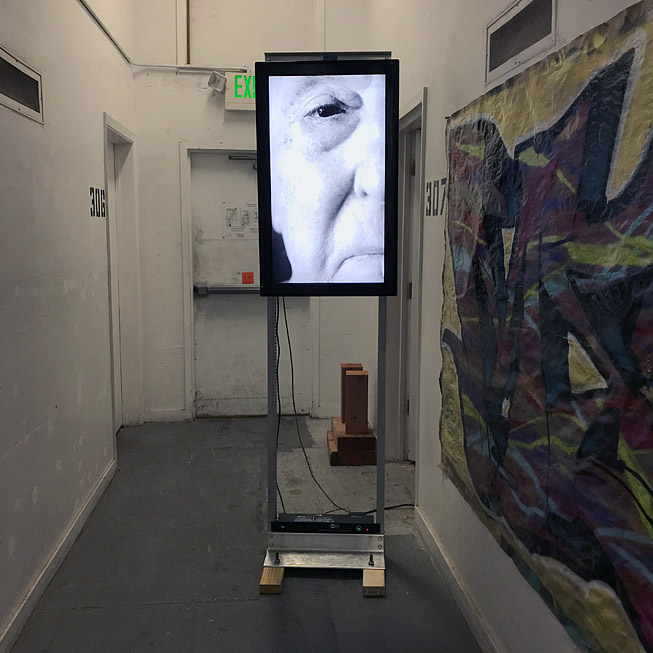 In society that fetishizes youth culture and consumption, we tend to fear aging. I decided to find someone at a late stage of of life to celebrate and display four feet high.
That person turned out to be Frank Fiscalini. At 96 years old he has led a full rich life and is still in good health and spirits. It took more than a few conversations to explain why I wanted to film a closeup of his eyes and face, but he came around.
I set the TV up in my studio with his face looping for hours, slowly blinking. I had no real goal or idea of the end. I just lived with Mr. Fiscalini's face for a while.
I thought a lot about time and how we elevate specific times of our lives over others. In the end, time just keeps coming like waves in the ocean. I happen to have a fair amount of ocean footage I shot with a waterproof camera.
With the waves projected behind his face, my studio was transformed into a quiet meditation on time and humanity.
Other contributions of building scaffolding and P.A. speakers formed the basis of a large-scale installation. Around this time, I had also been reading a strange history of the Oracle of Delphi.
At first the "oracle" was actually a woman whose insane rants were likely the result of hallucinations from living over gas events. A group of men interpreted what she said and ended up manipulating powerful leaders for miles.
Thus Delphi was formed conceptually. The parallels to modern politics seemed plain, but I've been thinking a lot about the futility of trying to control or predict the future. This felt like a good time for this particular project.
Balloon synth
The annual SubZERO Festival here in San Jose has been an anchor point for the past few years. One challenge I've faced is the strong breeze that blows through in the hour before sunset. For delicate structures and electronics on stands, it's a problem. Instead of fighting it this year, I decided to make use of it.
I had an idea to put contact mics on balloons so when the wind blew, the balloons would bounce against each other. I thought they might be like bass bumping wind chimes.
Thanks to a generous donation by Balloonatics, I had 15 beautiful green balloons for the night of the festival. Hooked up to mics and an amplifier, they made cool sounds. But, it took a bit more force than the breeze to move them forcefully enough.
Kids figured out they could bump and play with the balloons and they would make cool noises. Sure enough, it drew a huge crowd quickly. People came up to the balloons all night and punched and poked them to get them to make noise.
On the second night, though, the balloons were beat. Some rowdy crowds got too aggro and popped a bunch of them. Anyway, they were a big hit and it was fun to have something like that around.
Belle Foundation grant
An early surprise of the year was getting an envelope from the Belle Foundation with an award for one the year's grants. I was stoked to be included in this group.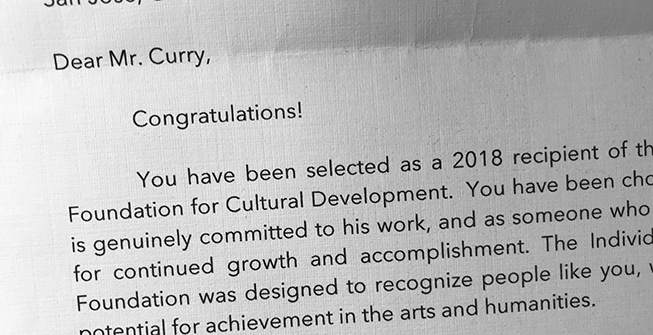 My application was simple and I talked a lot about SubZERO projects and working with older technology. In other words, what I actually do. To get chosen while being real about the art I make was refreshing.
Content Magazine profile
Before I moved back to California in 2012, I worked at an alt-weekly newspaper in Charleston, SC. I photographed all kinds of cultural events and wrote profiles of artists and musicians. But, I was always on the other side of the interview, as the interviewer.
Daniel Garcia from local magazine Content reached out in the beginning of this year and said they were interested in profiling of me and my work. The tables had turned.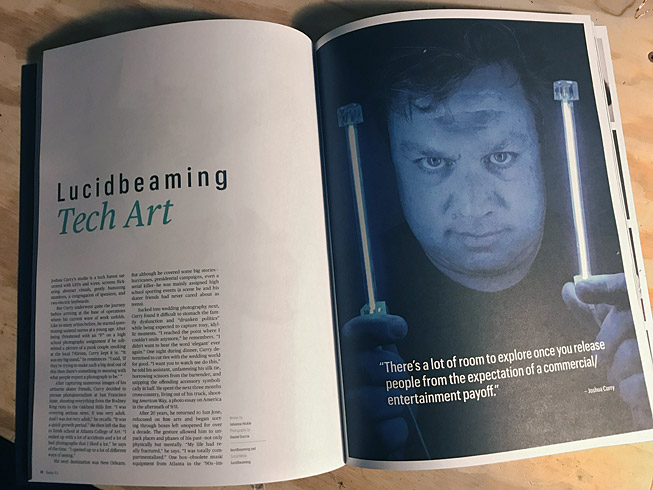 Writer Johanna Hickle came by my Citadel art studio and spent a generous amount of time listening to me ramble about tech and such. Her write-up was solid and she did a good job distilling a lot of info.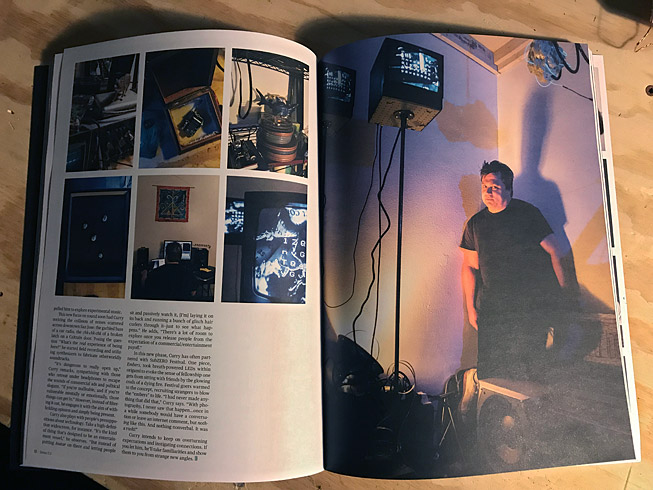 It was nerve-wracking for me, though. I knew the power they had to shape the story in different directions. I was relieved when it came out fine and had fun showing it to people.
Norcal Noisefest
In 2017, I went to the Norcal Noisefest in Sacramento. It had a huge impact on my music and approach to anything live. I came back feeling simultaneously assaulted and enlightened.
Over the past two years, I've built a variety of live sound sculptures and performed with most of them. This year the focus was on the new Wheel of Misfortune. I reached out to Lob Instagon, who runs the festival, and signed up for a slot as a performer at Norcal Noisefest in October.
Coincidentally, I met Rent Romus at an Outsound show in San Francisco and told him about performing at Noisefest. Rent puts on all kinds of experimental shows in SF and he suggested a preview show at the Luggage Store.
So I ended up with a busy weekend with those shows and an installation at First Friday.
Norcal Noisefest was a blast and I got see a bunch of rad performances. My set sounded like I wanted, but I have a ways to go when it comes to stage presence. Other people were going off. I have to step things up if I going to keep doing noise shows
Flicker glitch
I have been making short-form abstract videos for the past few years. Most have a custom soundtrack or loop I make. This year I collected the best 87 out of over 250 and built a nice gallery for them on this site.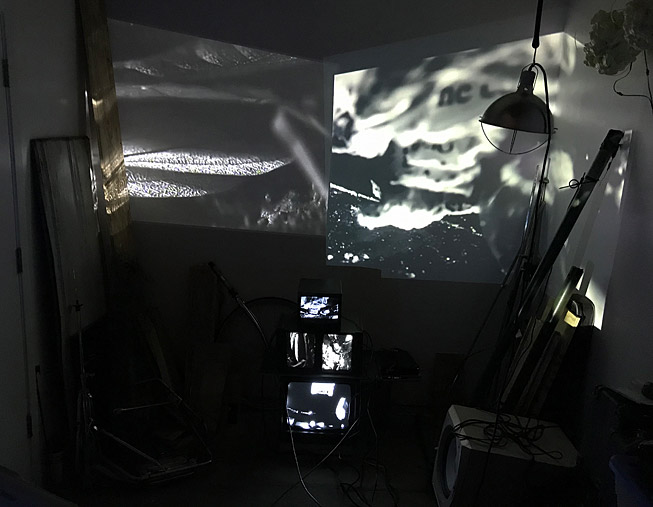 Every once in a while I get requests from other groups and musicians to collaborate or make finished visuals for them. Most people don't realize how much time goes into these videos and I'm generally reluctant to collaborate in such an unbalanced way.
I was curious about making some longer edited clips though. I responded to two people who reached out and made "music videos" for their pre-existing music. It wasn't really collaborative, but I was ok with that because email art direction can be tricky.
The first, Sinnen, gave me complete freedom and was releasing an album around the same time. His video was a milestone in my production flow. It was made entirely on my iPhone 7, including original effects, editing and titles. I even exported at 1080p, which is a working resolution unthinkable for a small device just five years ago. They could shoot at that fidelity, but not manipulate or do complex editing like that.
The next video was much more involved. It was for a song by UK metal band Damim. The singer saw my videos on Instagram and reached out for permission to use some of them. I offered to to just make a custom video instead.
All the visuals were done on my iPhone, with multiple generations and layers going through multiple apps. I filled up my storage on a regular basis and was backing it up nightly. Really time consuming. Also, that project required the horsepower and flexibility of Final Cut Pro to edit the final results.
I spent six months in all, probably 50 hours for so. I was ok with that because it was a real world test of doing commissioned video work for someone else's music. Now I know what it takes to produce a video like that and charge fairly in the future.
New photography
Yes, I am still a photographer. I get asked about it every once in awhile. This year I came out with two different small bodies of work shooting abstracts and digitizing some older work.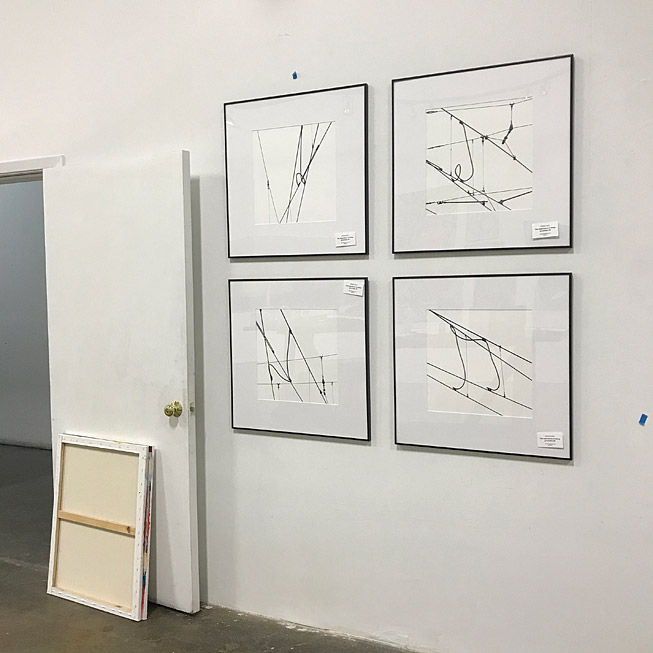 These monochromatic images are sourced from power wires for the local light rail (VTA) sub-station on Tasman Rd. I drove by this cluster everyday on a tech job commute for about a year. I swore that when the contract was over I was going to return and photograph all the patterns I saw overhead.
I did just that and four got framed and exhibited at Citadel. One was donated to Works gallery as part of their annual fundraiser.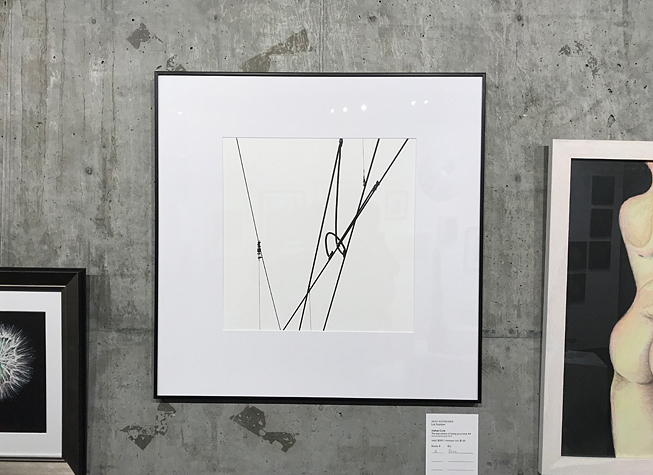 The Polaroids come from a project I had in mind for many years. Back when Polaroid was still manufacturing SX-70 instant prints, I shot hundreds of them. I always envisioned enlarging them huge to totally blow out the fidelity (or lack of it).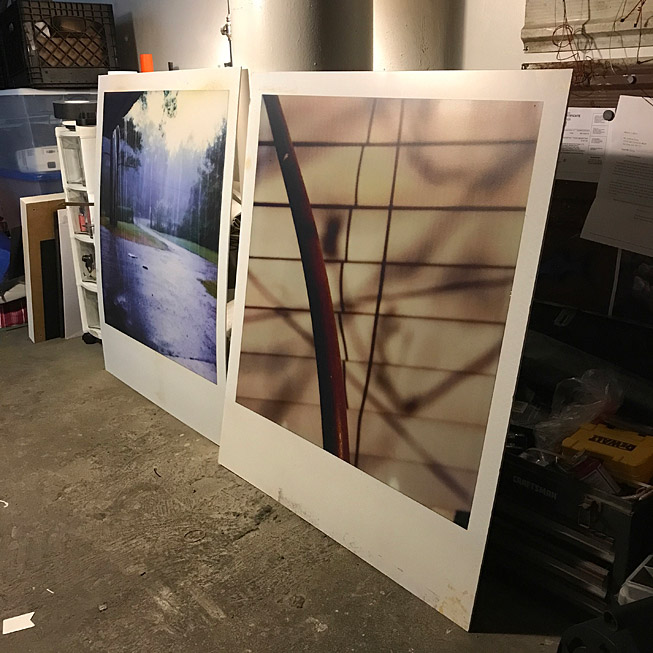 This year I began ordering 4 foot test prints on different mounting substrates. To that I ended up scanning a final edit of 14 from hundreds. To see them lined up on the screen ready for output was a fulfilling moment. Having unfinished work in storage was an issue for me for a long time. This was a convergent conclusion of a range of artistic and personal issues.
Passing it on
Now that I have a working art studio, I have a place to show people when visit from out of town. The younger folks are my favorite because they think the place is so weird and like because of that. I share that sentiment.
My French cousins Toullita and Nylane came by for a day and we made zines. Straight up old school xerox zines with glue and stickers and scissors. It was a rad day filled with weird music and messy work.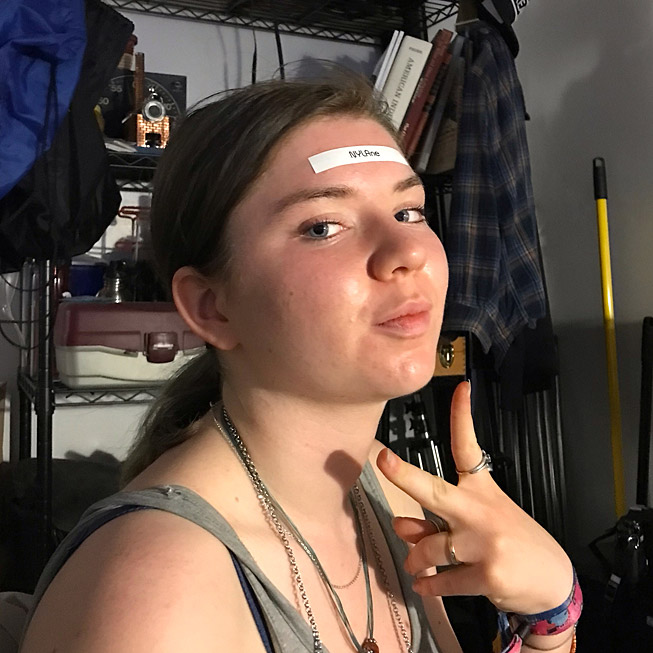 More locally, I had two younger cousins from San Francisco, Kieran and Jasmina, spend a day with me. They've grown up in a world immersed in virtual experiences and "smart" electronics. My choice for them was tinkering with Adafruit Circuit Playground boards.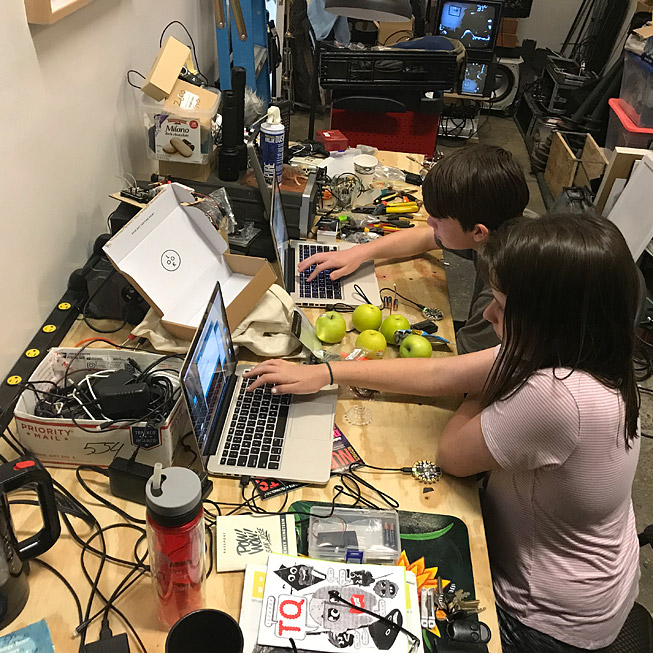 They got to mess with Arduino programs designed to make noise and blink lights. At the end they each built capacitive touch synthesizers that we hooked up to apples. Super fun. Later that night we took them to a family dinner and they got to explain what they had made and put on a little demo.
Next up
The wolves are still howling and running. My longtime project to build standalone wolf projections made a lot of progress this year. I had hoped to finish it before the last First Friday of the year, but that wasn't in the cards.
Getting something to work in the studio is one thing. Building it so it is autonomous, self-powered, small, and can handle physical bumps, is a whole different game. But, I do have the bike cargo trailer and power assembly ready. The young cousins even got a chance to help test it.
A new instrument I've been working on is a Mozzi driven Arduino synth enclosed in an old metal Camel cigarettes tin. It has been an evergreen project this year, offering low stakes programming challenges to tweak the sounds optimize everything for speed.
One need I had was a precise drill for specific holes. A hand drill could do it, but I had a cleaner arrangement in mind. As luck would have it, another cousin in San Luis Obispo had an extra drill press to donate. Problem was, it was in rough shape and rusted pretty bad.
I brought it back and doused it in PB B'Laster Penetrating Catalyst. That made quick work of the frozen bolts and a range of grinders and rotary brushes handled the other rust. It looks great and is ready to make holes for the Camel synth.
Finis
It's been a good year artistically. I had some issues with living situations and money, but it all evened out. I'm grateful to have this kind of life and look forward to another year of building weird shit and making freaky noise.